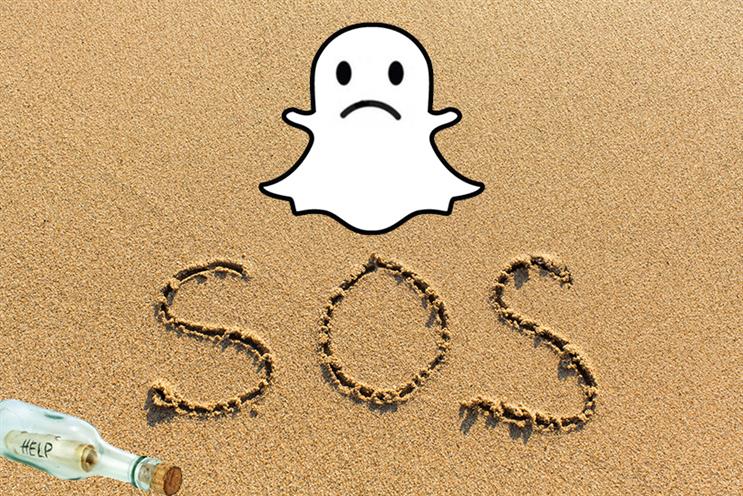 Faced with increased competition and a potentially fatal user exodus, Snapchat this week unveiled its latest new feature: "World Lenses," 3D animated stickers of cartoon clouds, rainbows and flowers that users can plug into their Stories.
Delightful. But it's going to take more than cute imagery to save the platform, say marketers.
"Snapchat's headed to the social media graveyard," said Craig Viera, writer and content strategist at independent digital agency HZDG. "Say 'hi' to Vine for me."
Cynical as he may sound, Viera might not be wrong. Instagram announced last week that its Stories has 40 million more users than Snapchat, which originated the feature. And despite Snapchat's new "Snap to Store" offering, which gives advertisers the ability to track foot traffic from the platform to their store, marketers are still apprehensive about the app or are giving up on it entirely. To make matters worse: Just weeks after its IPO, parent company Snap's stock is trading below its opening price.
Is it too late for the company to right itself? We asked industry experts what Snapchat must do to renew itself in the eyes of marketers.
Matt Britton, CEO, Crowdtap
Snapchat has its work cut out for it to avoid becoming the next Twitter, or worse, the next MySpace. First, there is a lack of vanity user metrics. Influencers don't value it the same way as Facebook or Instagram because the vanity metrics of followers and likes aren't public. These vanity metrics are monetizable for influencers, and if they don't prioritize using them, there will be a trickle-down effect.
There's also a lack of impact transparency. It is still quite confusing for advertisers to understand the true value of their buy, and the ephemeral nature of Snapchat's content makes it challenging for brands to build their own presence. Finally, all of Snapchat's core features have proven to be quite easily replicated by Facebook, which enjoys the impact transparency, vanity user metrics and strong network effect that Snapchat sorely needs.
---
James Nord, CEO, Fohr Card
Snapchat never built tools like Discover or Explore to help brands and celebrities and individuals grow their audiences. So it was difficult for influencers to cultivate a meaningful following on Snapchat. When Instagram Stories launched, it made more sense for an influencer to focus efforts on Instagram, where he or she already had a following, rather than try to replicate or migrate that following to a new app.
For Snapchat to be more competitive, it should find ways to give brands and influencers an effortless way to develop their followings on the platform and provide analytics and insights into those followings. Snapchat could start with showing follower counts and giving a way to save and report on story analytics.
---
Mike Proulx, Chief Digital Officer, Hill Holliday
When Snapchat launched, it shifted the paradigm of social content to be much more ephemeral, expressive and in the moment. Its innovative features like expiring posts, geofilters and selfie-lenses is what helped build up its initial user base and created a new culture of digital communication. But what made Snapchat special has become commoditized.
In order to lure back those who've abandoned Snapchat in favor of Instagram Stories and to retain current users plus attract new ones, Snapchat must find ways to shift the paradigm once again in order to stand out as unique. This means constantly innovating and launching new features that enhance the core of what makes Snapchat special (like "World Lenses") but not copy-able. Easier said than done, I know. What Snapchat has going for it right now is that it's the no. 1 social network for teens and it owns Bitstrips, which prevents Instagram from integrating Bitmoji into its feature set.
---
Cristina Lawrence, Group Vice-President, Social Media and Content Marketing, SapientRazorfish
For Snap, it's a two-part challenge: They need a much broader, highly engaged user base to attract more marketing dollars, and those marketers are going to require the ad products that allow for precise, highly relevant content targeting and ways to better demonstrate ROI.
One critical way for Snapchat to attract this broader user base (i.e. courting the older demographic) is to take a card out of Facebook's playbook and refine aspects of their platform from a utility and simplicity standpoint, in addition to powering relationship and content discovery (its latest addition of searchable stories is a step in the right direction). From a marketer's POV, continuing to roll-out advancements to consumer targeting, such as its latest addition of allowing advertisers to retarget users who have previously engaged with their ads, is absolutely critical for driving mobile ad revenue share.
---
Rita Mogilanski, Senior Strategist, The Marketing Arm
Snapchat needs to give brands the opportunity to bypass the barriers of reaching consumers. Instagram Stories allows marketers to reach consumers without following a brand's page or spending thousands of dollars. Young consumers have become more savvy and less receptive to the ad content that Snapchat serves them. Instagram has begun to beat Snapchat at what originally made it great: authenticity.