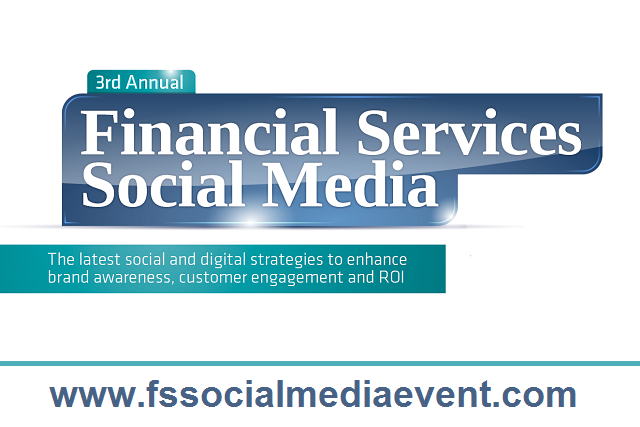 Here we look at some of the main themes and best practice that emerged from the day.
Defining the right goals and strategy
The event kicked-off with an exploration of goal-setting and how to embed social media effectively at the heart of an organisation.
Phil McGuin, head of insight at Stickyeyes pointed to industry benchmarking, both within the financial sector and beyond, as a helpful step to define realistic goals.
Jenny Burns, global head of social media at RSA underlined the need to remain focused on goals and to "not let social technology make you lose sight of what you are trying to achieve!"
Every department wants a piece of social but your strategy must be cohesive
On the question of ownership Mark Brayton, director of interactive marketing at Barclays, stated that "every department wants a piece of social but your strategy must be cohesive".
This view was echoed by Paul Beadle, senior manager of consumer and social media at Nationwide, who advised harnessing the real expertise in the social arena whether it exists in marketing, PR, customer service, HR or elsewhere. Beadle highlighted the value of social media in "delivering the human touch within services."
Engaging and mobilising staff
Making the most of social media to both engage and mobilise staff was a key theme of the morning presentations.
Jenny Burns of RSA asserted that the best way to start engaging with audiences externally was to start internally. She told the audience that making use of the Yammer platform had "transformed the way RSA communicates internally".
Tom Nixon, founder of NixonMcInnes, talked about the importance of mobilising your employees around a meaningful purpose: "Great companies are communities of purpose." He went on to say that purpose is nothing without being authentic.
Chris Andrew, managing director, UK and Europe for Hearsay Social, expanded on this with an exhortation to "empower staff with great content". This is particularly key now, he advised, because 50% of customers have made up their mind about a purchase before entering a bank branch.
The DNA of great social content
So, what defines great content in the social space? And particularly within the financial sector? Well authenticity and cross-platform consistency were regular messages at the conference, as was using social content to aid customers in arriving at a purchasing decision.
We also heard from the largest platforms themselves on this with Lee Jay Burningham, head of financial services UK and EMEA for Facebook, highlighting the importance of relevance and true storytelling to engage his platform's UK audience of 26m visitors per day.
Georgina Parnell, sales leader at Twitter UK, talked about the value of encouraging sharing by seizing the moment – whether that moment be defined by a local event or trending keyword. This was well demonstrated by Kassy Dignam, digital communications manager at Lloyd's of London, who revealed how they employed rich, visual content around a visit from the Queen to up engagement by 117%.
Building engaged brand communities using content was also referred to during the day by speakers including Dan McKinnon, commercial director at Synthesio. There were many great examples of financial services brands truly listening to their audience and responding in a relevant, engaging and useful manner to help build such communities.
Neil Edwards, founder and managing partner of The Marketing Eye touched on the earned vs. paid approach here with valuable examples of brands using promoted posts to drive highly targeted traffic to their site.
Staying friends with the regulators
For an audience of financial services marketers, there was no escaping the question of compliance, and Simon Ryan owner of Social Advisors offered a useful overview. He pointed to the residual uncertainty of the FCA's guidance, though did refer to the FCA's commitment to rely not just on regulatory reports from firms but also on reports from consumer bodies, internet monitoring the media and even Twitter.
Ryan advised the audience to ensure that they did a thorough risk assessment. He advocated regular auditing and archiving in case of an FCA spot check. He also outlined ideas for getting the best out of staff using social channels, including clear lines of authority, access and scope alongside regular, comprehensive monitoring.
So, how are financial services faring in the social space?
It was evident from the conference, that there are increasing numbers of great case studies of financial services brands not only trying new things in the social space but also being able to prove the returns of these initiatives.
There is undoubtedly still a lot to learn and implement, but it's clear that, when it comes to social media, financial services marketers are beginning to close the gap between them and their counterparts in other sectors.