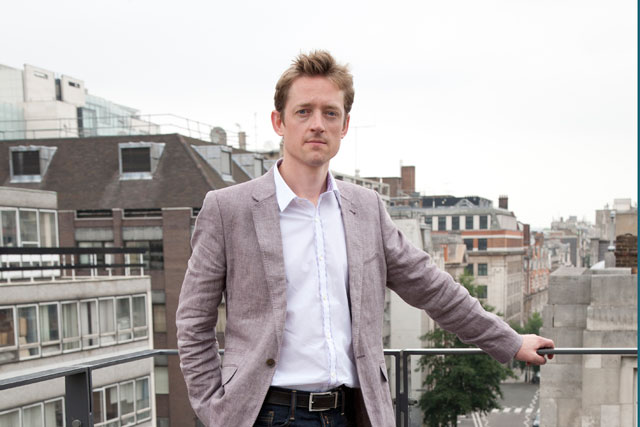 Asked if he's planning to usher in a new beginning at WCRS by dropping the meaningless "&Co" from the agency's moniker, Matt Edwards replies that he has more important things to worry about.
Indications are that WCRS&Co will gradually revert to the far more familiar WCRS over the next few months. And not because of the elongated name's associations with a previous regime.
As the newly installed chief executive - the agency's third in less than two years - the pretentiousness of "&Co" clearly jars with Edwards' contention that advertising is a fundamentally simple business. It's just the industry that makes it unnecessarily complex, he says.
The feeling within the agency is that fiddling with the name would have been mere window-dressing when WCRS's immediate need is for stability and focused leadership.
That need stems from a torrid period that saw both Will Orr and Penny Herriman part company with the agency after relatively short spells as chief executive, a number of account losses and lacklustre creative output.
Getting WCRS back on track isn't just vital for its Engine parent but represents a personal challenge for Edwards, 38. Not least because Engine has a reputation for parting company with WCRS bosses deemed not to have delivered that even Chelsea FC would find hard to match.
And in appointing Edwards, the agency will face inevitable criticism that it has given the job to the equivalent of the first-team coach. That's to say somebody good at organising the day-to-day training ground drills but whose ability as a match-winning tactician is unproved.
The more cynical onlookers will argue that's exactly why Edwards, who returns to WCRS having been the managing director of Engine, was given the job. Everybody agrees he's a consummate account man, highly loyal and a safe pair of hands. Perfect managing director material, in fact.
Whether Edwards can emerge as a true agency leader when set against the merciless management reputation of Peter Scott, Engine's chairman, or the hands-on approach of Debbie Klein, the WCRS chairman and Engine's joint chief executive, is a more open question.
"Although Matt is a smart guy with strong opinions, he's always been best at operational delivery," a former colleague remarks. "I'm not sure he's the right man to lead the charge."
If Edwards is stung by such verdicts, he isn't letting it show: "The industry should judge people on their record. Mine shows that I've been associated with award-winning work on very different pieces of business. What's more, I've a good record of leading and closing pitches. That gives me an enormous amount of confidence."
He bridles at any suspicion that he won't be allowed to be his own man - perhaps with good reason. "He's unsackable," a former WCRS senior manager declares. "Engine would look pretty stupid if it was to dump a third WCRS chief executive in so short a time."
"There's no way I would have got this job if Peter Scott thought I was a yes man," Edwards insists. "That doesn't mean I'm not loyal. I love being part of something and to be able to build on it. And because Debbie has a big job to do at Engine, she wants me to have as much leeway as possible at the agency."
At least Edwards knows what he's letting himself in for. Not only does he understand the WCRS culture, having joined the agency in 2005, but he enjoys a comfortable working relationship with Scott, Klein and Leon Jaume, the WCRS executive creative director.
Friends of Edwards praise his "can do" attitude, said to be a legacy of his days at Saatchi & Saatchi, where he began as a graduate trainee 17 years ago, having come down from Oxford with a degree in politics, philosophy and economics.
"He had the kind of tremendous energy that characterises people who go on to be successful managers," Craig Mawdsley, another Charlotte Street graduate trainee at the time and now a joint head of planning at Abbott Mead Vickers BBDO, remembers. "He's very good at persuading clients about what they need to do."
Edwards' time in charge of the Stella Artois account at Lowe London coincided with several outstanding commercials before he persuaded Matthew Bull, then the agency's chief executive, to make him the head of new business.
Bull, the outgoing Lowe worldwide chief creative officer, regarded Edwards as Lowe London's chief executive-in-waiting. "Matt is a very sharp thinker but without a sharp tongue," he says. "Yet he's never afraid to tell you if he doesn't like something, and he's no lackey."
When Jeremy Bowles quit as Lowe's managing director to become a managing partner at WCRS, he invited Edwards to follow him in as its new-business director. "Matt cares passionately about creative work and is very good at bringing the best out of creative teams," Bowles, now the global managing partner on the Citi account at Publicis, says. "He's been a loss to front-line account management for too long."
Overhauling a WCRS creative product widely regarded as underwhelming is high on Edwards' agenda. This won't mean replacing Yan Elliott and Luke Williamson, the creative directors who left three months ago, but by introducing what he claims is a clearer and simpler internal structure overseen by Jaume that allows senior teams to take more direct responsibility for their business and to forge closer relationships with clients.
Meanwhile, he says he's close to appointing a planning partner - "the last piece of my management team" - and filling the gap left by Jonathan Moore, the chief strategy officer, who stepped down in June.
In essence, Edwards' plan is to equip WCRS for a changed communications world. "I want us to deliver the same transformational ideas for which WCRS has always been famous but to deliver them in new ways," he explains. "That may involve new technology - I'm very eager that we should get more recognition for the digital work we do - collaborations with other Engine operations either in the UK or New York and with outside specialists."
For now, though, the consensus is that he needs some quick runs on the scoreboard to help restore the agency's external credibility while boosting internal morale.
Last month's appointment to handle advertising for London Elects and this month's capture of Global Radio are a promising start, but neither are the head-turning win the agency urgently needs.
As a rival agency boss puts it: "Edwards needs people around him on whom he can rely. But he also needs those people to feel motivated and a big win would be the answer. It isn't rocket science."
TURBULENT TIMES AT WCRS
October 2009: After weeks of speculation, the chief executive, Will Orr, leaves the agency after just 15 months in the top role. Penny Herriman, the WCRS managing director who had joined from Bartle Bogle Hegarty the previous summer, is put in place to run the shop while it searches for a replacement.
January 2010: The executive creative director, Leon Jaume, is made a joint executive creative director of Engine. He retains his role at WCRS but the creative directors, Yan Elliott and Luke Williamson, take on the day-to-day running of the creative department.
July 2010: WCRS appoints Jonathan Moore, the former Unilever global brand vice-president, to the new position of chief strategy officer.
October 2010: Herriman is finally promoted to chief executive. The agency is merged with its sister digital shop Altogether to help boost its new-media offering.
January 2011: The agency changes its name to WCRS&Co to help showcase its "values of collaboration and co-creation".
May 2011: Elliott and Williamson leave the agency without a job to go to, in what is described as an "amicable split".
June 2011: Herriman is next to leave, with the Engine managing director, Matt Edwards, replacing her with immediate effect. Just one week later, Moore also departs, without a job to go to.