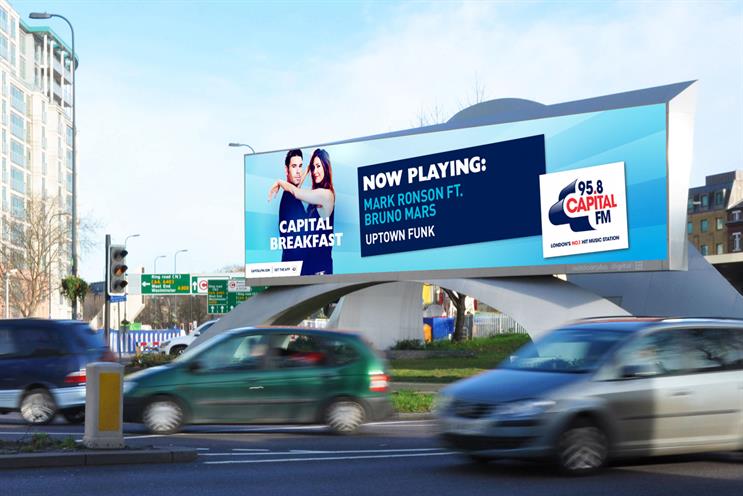 Last week's news that Capital FM, London's self-styled "number one hit music station", has formed a partnership with Outdoor Plus draws more attention to the opportunities that digital out-of-home ads now present.
The activity will update commuters with the songs being played on the station throughout the day. A dy­namic feed will link the Capital studios to 14 outdoor sites in some of London's busiest traffic hotspots, including the Euston Road underpass and Vauxhall Cross.
The campaign will run during peak times, with live feeds during the Capital breakfast show with Dave Berry and Lisa Snowdon, mid-mornings with Pandora and drive-time with Greg Burns.
It is just the latest innovation in the digital outdoor space and remains the "tip of the iceberg" in terms of what the sector can now do, according to Jonathan Lewis, the managing director of Outdoor Plus.
He says that the increasing flexibility of the medium has already expanded the number of potential clients.
Last year, Moët & Chandon's first dynamic digital out-of-home campaign featured live tennis updates from the 2014 Wimbledon Championships. The use of live feeds across London enabled the brand to reinforce its association with the tournament without being the lead sponsor.
Lewis says: "It's all about getting clients to think about outdoor in a new way and hopefully these early campaigns will encourage creativity."
Stacey Knight, the director of futures and content at JCDecaux, agrees that the opportunities around outdoor are evolving fast, allowing for tactical, localised, and pollen-and temperature-activated approaches.
Another change is down to creative executions. In the past, the work had to be complete, signed off, finished. Now, it can evolve and react. Change the creative? No problem.
Capital used CrowdScreen, which specialises in developing social feeds, to transfer song information to Outdoor Plus' screens. Neil Bentley, the managing director of CrowdScreen, says: "Out-of-home was static for a long time. Now it can include the integration of social and dynamic feeds, and allows instant content to be created on screens of all sizes instantly.
"Clients can change the copy, the look, on the fly. From any device anywhere in the world instantaneously."
With so much choice, knowing where to start can be a problem, and different media owners take different views. JCDecaux has set up its own studio to develop video content, dubbed Channel 6. "All our six-sheets combined reach 40 per cent of the UK population. This is broadcast-level coverage, beating Sky 1, Dave and others," Knight says.
Still in beta-testing, Channel 6's first idea is Street-Style, showcasing affordable fashion and featuring in­spirational people spotted on the street. Responses have been strong and the company has ambitious plans to develop more ideas using video content.
Lewis has taken another approach: "It's one of the great challenges – OOH has never before had to consider content. It was just a canvas and nothing more. In the digital age, content will be part of the offering. Do we do it or get someone else to? We have no plans to create our own but will partner with content companies."
Such innovation is being underpinned by Route, the industry's measurement body, which now provides an unprecedented level of audience detail around outdoor sites. This can be applied to day-part campaigns or, in the case of Moët, specific hourly ones.
"It's about identifying an audience at a precise point in time," James Whitmore, the managing director of Route, says. "If you can identify more young people on a particular railway platform at a particular time of day, then you can target and price it better. Pricing means better returns for the client, but also for the media owner, to segment their offer."
Outdoor still offers the brand fame afforded by static, giant posters, but digital provides additional options that are ready to be explored. As Lewis explains: "With car recognition, you can already target, say, BMW drivers with advertising from Audi. The technology exists."

This technology is exactly what Lexus, through M&C Saatchi, is experimenting with in Australia. Road-side billboards identifying the brands and colours of passing cars display tailored messages to motorists.
Lewis concludes: "In a closed pedestrian environment, facial recognition could target 30- to 40-year-old women, or kids in hoodies. There is no limit to potential. Creatives and clients need to be thinking differently."