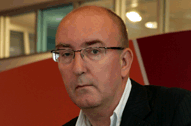 Gwyn Jones
Group chief operating officer, Bartle Bogle Hegarty




In September 1987, I started my career in advertising as one of the first three graduate trainees ever taken on by Bartle Bogle Hegarty. Twenty-one years later, I am still there.

It is probably a fair assumption that something went OK in training.

The problem with this assumption is that it was a long time ago and if I am certain of one thing, it is that things have changed a lot since then.

With this in mind, I decided to check the views of some of our more recent recruits, all superstars of the present, let alone the future.

A couple of things immediately became clear. First, there is no way I would even be a contender among this lot.

Second, despite that, some themes do appear consistent with my own memories, so maybe some tips will stand the test of time.

It goes without saying that it helps to be in a good company and to have good teachers.

Listen to them well, write stuff down and accept their feedback.

As a member of the inaugural graduate training scheme at BBH, we benefited from the fact that the agency was keen to put on a very good show.

We sat at the feet of legends and were afforded the chance to have a go at everything the agency had to offer.

In truth, we were horribly spoilt and I suspect, by the time we started working on accounts, it showed.

Matthew Melhuish, my first boss and a subsequent founder partner of the excellent BMF in Sydney, was at pains to point this out to me:"You think you're pretty special, don't you, Mr Fancy Pants Footlights College, BBH Graduate Trainee?

"Well, let me tell you something. Right now you are lower than the shadow of shark shit!"

Which you will recognise as being Australian for "reasonably far down the pecking order".

Wherever you stand on the "short sharp shock" approach to personal development, I can tell you that this intervention worked for me very powerfully.

I reckon I was diligence and humility personified for many months.

I stayed until about four o'clock in the morning one night to clear and prep a room for a pitch the following day and found John Bartle's silver pipe cleaner in the process. I got a £50 spot bonus for my trouble. I was back on track.

Notwithstanding this understanding of one's position in society, I also believe that it is important to be a bit bolshie and to find a way to challenge the status quo.

Whether formal or informal, all agencies will have some form of process - a way of getting stuff done that is unique to the personalities and accounts that make up that agency.

It is vital that you work out how your agency works so that you can change it.

Even the best-oiled agency machines do things in certain ways because they have always done it that way.

Not necessarily the best way of responding to an ever-changing world.

Those who see this most clearly are those who are the least indoctrinated and closest to the future - the new guys. So, not so far down the pecking order after all.

Knowing how to present your challenge then becomes critical.

To gain ground quickly, seek to deal in facts first and opinions later.

One of the things you will notice in meetings is that many sentences start with the phrase: "Well, I think..."

Typically this phrase is delivered with a tone of voice that also implies that all previous contributions to the debate have been worthless.

It is a brave recruit who decides to add their own, possibly contradictory, opinion to the fray after the chief executive has just delivered his visionary thoughts.

However, the killer fact is your best friend. "But we know that the product won't actually be on shelf until November", can change the direction of the debate in a second.

People will soon look to you for the facts and maybe even the answers. This might imply the need for an anal approach.

I once learned all the lot numbers of the Levi's range and, at the same time, the inner workings of the Audi "Torsen" differential.

While this did not add to my attractiveness as a dinner party guest, I think it was a price worth paying for getting to deal in broad brush strokes.

Finally (and frankly) if nothing else, make friends with and be very nice to the backroom staff - the production teams, facilities and the studio, office management, finance and so on.

When all else has gone pear-shaped these guys are going to get you out of trouble.

Twenty-one years ago someone said to me during an informal part of the training programme: "Always buy your traffic man a pint".

We don't have a traffic department any more at BBH, but the principle still applies.


Colin Gottlieb
Chief executive, Omnicom Media Group EMEA




I started at a small media shop in South Molton Street in December 1979, making coffee and doing TV spot performance summaries for the heady sum of £2,750 per annum.

Two directors quit to start their own media shop several months later (one was my boss). The company only had ten staff.

Because I seemed to get on very well with a large furniture retail client, the managing director called me in, said I was doing well and, to my amazement, put me on £4,500 per annum.

That was the most important lesson and it has carried me through to the silly heights of today; having a client value you is everything.

But here are other lessons I've picked up over the years:

1. You can't buy reputation. This is a very small business and reputation is everything.
2. Be a radiator not a drain. Always be the first to help someone overcome a problem.
3. Be honest. It will catch up with you quickly if you're not.
4. Be courageous. Fight hard for what you believe and don't be afraid to take risks. But always plan carefully before you act.
5. Knowledge is power. Learn as much as you can from the best people around you. If there's something you don't understand, ask. If no one wants to hear you, move.
6. Your benchmark is you. Don't waste time worrying about other people. Concentrate only on making you better and stronger.
7. Always be curious about the world around you. Creativity is about taking unrelated things and connecting them to create brilliant ideas.
8. "Men tract und Gott lacht". At this stage of your career, just focus on producing the very best work you can today. The future will take care of itself.
9. Don't be afraid of hard work and manic hours. But be clear about the task you've been given and what's expected of you. Keep a personal record of your work and your achievements.
10. Make important clients really value your input. You can't achieve this unless you have a real passion and understanding for their business, a deep knowledge of and belief in the work you're presenting and a manner that quickly builds trust. And if you've achieved all this, you're already well on your way to success!


Mark Roalfe
Chairman and executive creative director, Rainey Kelly Campbell Roalfe/Y&R




What advice to give to anyone entering advertising these days? Well, I suppose these days aren't very different from when I first started, so here's how I went about it.

My first job was at an agency called Freeman Matthews and Treasure, which has long since gone bankrupt. I got the job because I offered to work there for free.

Advertising had been what I always really wanted to do, I'd left art college early to do the D&AD course while I worked at Inn on the Park as a store-man.

So, my first piece of advice: be prepared to prostitute yourself.

During my time at Freemans, I teamed up with Robby (Robert Campbell, co-founder of Rainey Kelly Campbell Roalfe).

He was a Sloane Ranger, I was a New Romantic - not a match made in heaven. We moved to another agency and worked evenings and weekends at getting our work better.

Then we took two weeks holiday from the agency we were at and did a placement at WCRS (which was the place we'd always wanted to work).

A month after our two weeks there, we got a call from (Andrew) Cracknell offering us a job. I later learnt it was because all the PAs fancied Robby.

So my second piece of advice: get yourself a good-looking partner.

Once at WCRS, we did our best not to get fired and made sure we were the last ones to leave the office every night.

Fortunately, Ron Collins decided to take us under his wing. It was a truly scary place, but a brilliant place to learn and Ron was a genius.

We also worked for Robin Wight on BMW, who, again, was brilliantly inspiring. And that was where I learnt about building a brand and giving it a distinct tone of voice.

My third piece of advice: much as you may think you know it all at 29, you don't.

After WCRS, Robby and I got offered a job at Abbott Mead Vickers. As an agency, it couldn't have been more different to White Knuckles Rutherford Scott.

It was a calm temple of great advertising. We set about making sure our work lists were always the longest and we were in most weekends trying to mug the senior teams.

We learnt much from David Abbott - he wasn't just a great copywriter, he was also a great planner and a great businessman.

Most of all, he believed he could help change and build businesses with what he did. So my fourth piece of advice: we're not artists, we just sell stuff.

Finally, after AMV and a brief flirtation with the Banks Partnership, Robby and I set up RKCR with Jim (Kelly) and M.T. (Rainey).

We'd plotted having our own agency since WCRS. The early years were the most exhausting, nervous, sleepless, poverty-stricken and terrifying of my life.

Which leads neatly to my final piece of advice: fuck it, you only get one chance.

Liz Harold
Founder, LizH + Grime




I've often tried to define what separates the diamonds from the jewels and if I could bottle it, what it might be.

It isn't just one ingredient when I think of all the special people I have met, but a combination of qualities - less about credentials and more about mindset.

Graduates and young creatives who move successfully and slowly up within the business tend to walk the walk, they don't talk the talk.

They have passion and real faith in their ideas and excite and infect people with them, taking criticism without being defensive and gathering support and enthusiasm for them along the way. When the idea is batted out at last, they come back ever passionate and more convincing about the next one.

I too gathered a bit of support along the way writing this and asked what others might consider to be good advice.

"Make yourself invaluable" Yan Elliott, the joint executive creative director of WCRS, says.

"Come up with solutions that no-one else has. In-depth thinking will make you stand out from the others."

Talented people in our business have a quiet confidence and an honesty that shine through and are never arrogant.

The pearl of wisdom from Jim Carroll, the chairman of Bartle Bogle Hegarty, is: "The people that get on in advertising tend to employ their intelligence to make things more simple because advertising is, after all, condensed, not distended thought." So, try to be individual.

It seems to be a question of not "how many punches you can throw, but how many blows you can take", is how Jeremy Carr, a senior creative at Miles Calcraft Briginshaw Duffy, puts it.

If you are an ambitious account handler or planner, always ensure you are well-prepared, either for an interview or a briefing.

Have case studies for brands you are passionate about and be prepared to endorse campaigns you really like or dislike.

For all aspiring creatives, planners or account handlers, my final bit of advice is immerse yourself in films, books, art galleries, exhibitions, music, everything digital and all the things that keep this interesting world turning.

As Dylan Williams, the head of strategy at Mother, adds: "Spend your time and fill your space with things your clients would never have come across, but that their audiences and consumers lap up."