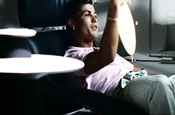 The brand, which claims to be specifically formulated to meet the physical needs of footballers, will use the player in launch campaigns in European markets, including the UK. In countries where Ronaldo is less popular, the brand will recruit high -profile local players.
Soccerade, which is caffeine-free and positioned as providing natural energy, aims to take on Coca-Cola and Pepsi, which are to go head-to-head this summer with strategies to promote their respective Powerade and Gatorade sports-drink brands.
Soccerade will launch in Portugal next month, ahead of its arrival in the UK later in the year. Leppin, the brand's Icelandic owner, is currently seeking a UK distributor.
Ronaldo, who is the fourth-highest-paid footballer in the world, is also a global brand ambassador for Nike. The sportswear and equipment brand is currently running a viral to promote its Mercurial Vapor IV football boot in which the star races against a Bugatti Veyron car.
The sports-drink sector grew 16% to reach a value of £154m last year, following 28% growth in 2006, according to the Britvic Soft Drinks Category Report. Market leader Lucozade Sport was up 15% to £102m.