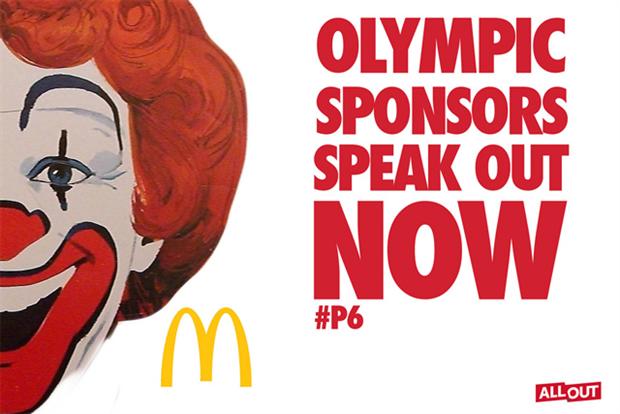 Four fifths (81%) of Coca-Cola's social mentions referred to the brand's refusal to address concerns over host country Russia's anti-gay stance, epitomised by comments made by president Vladimir Putin, who said that homosexuals would be welcome at Sochi as long as they did not spread "gay propaganda" or go near children.
Much online ire was generated by the revelation that Coke had banned the word "gay" from its "share a Coke" digital initiative in South Africa. Only 2% of social chatter was positive about the soft drinks giant, and 2% linked the brand to obesity.
Similar levels of criticism were levelled at Visa, with 77% of mentions linked to gay issues. That figure rose to 88% for McDonald's, while 10% of chatter was about the fast-food giant and its links to obesity concerns.
The top three most talked-about Olympic partners in the UK, specifically mentioning their associations with the Games, were: Coca-Cola, with 340 mentions; Visa, with 290 mentions; and McDonald's, with 270.
In the UK, the top hashtags associated with the Winter Olympics were:
#sochi2014, with 122,300 mentions
#sochi, with 29,700 mentions
#winterolympics, with 26,900 mentions
#bbcsochi, with 11,900 mentions
#olympics, with 11,500 mentions
#teamgb, with 8,500 mentions
UK activity was monitored between 7 and 18 February across Twitter, blogs and forums. Overall in the UK, the Sochi Olympics have garnered 334,100 mentions. Most (64%) chatter was by males, compared with 38% of females.
According to We Are Social, social media conversation regarding sponsors and the Games was so low because sponsors "took the tactical decision prior to the Winter Games that Britain would not be a prime market to highlight their partnership".
Ed Kitchingman, We Are Social, R&I director, said: "The vacuum of sponsorship activity and a lack of proactivity addressing concerns prior to the Winter Olympics helped exacerbate an already sensitive situation concerning gay rights.
A lack of proactivity addressing concerns prior to the Winter Olympics helped exacerbate an already sensitive situation concerning gay rights.
"As a result, the major topic of conversation about key sponsors was criticism of their involvement in the Games. Not reacting to it, or addressing it, enabled criticism to proliferate into negative headlines and, in some cases, even turned into a call to boycott products."
Globally, the Games generated 7.3 million mentions between 7 and 18 February, with a 56%/44% male/female split.
Proportionally, UK consumers were more liberal-minded than global consumers. Only 1% of global chatter about Visa's sponsorship was critical of its failure to address LGBT issues. That figure was similarly low for McDonald's and Procter & Gamble – 2% and less than 1% respectively.
Although Coca-Cola was the number one mentioned brand in the UK, it was fourth globally, with 8,500 mentions. Visa was the most-mentioned, with 49,700 mentions, followed by McDonald's (18,800) and Procter & Gamble (12,000).
Earlier this month, Marketing reported that Scott Wooledge, an LGBT activist, had launched a parody version of McDonald's Cheers to Sochi website in frustration at the Olympic sponsors not condemning Russia's anti-gay laws.