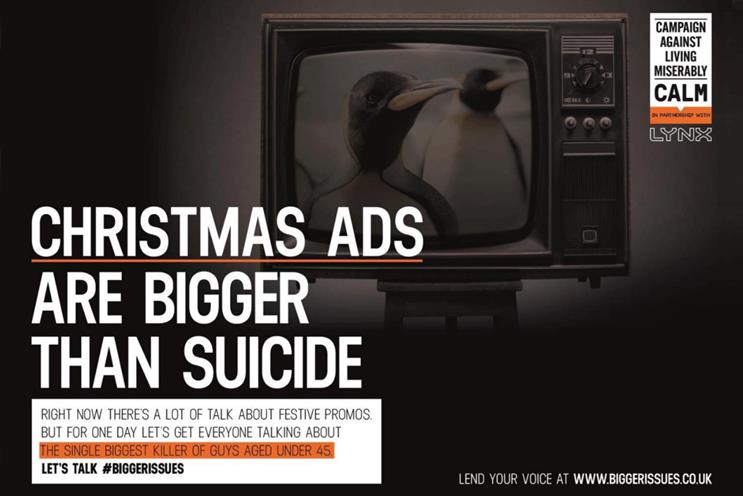 WINNER: Bigger Issues by TMW Unlimited, W Communications, Mindshare, Kinetic and DOOH.com
CALM (Campaign Against Living Miserably) exists to prevent male suicide – the single biggest cause of death among men under 45 in the UK. The charity offers support to men feeling down, through a helpline and webchat.
More broadly, CALM seeks to challenge a culture that prevents men seeking help when they need it. The main barrier to getting suicide on the public agenda is that it remains the ultimate taboo – nobody wants to talk about it.
In fact, on Social Media, people talk about everything except male suicide. So the trending topics were used to talk about the one thing no-one wanted to talk about.
Lynx approached CALM with the proposition of a brave collaboration. The intention was to couple Lynx's access to young men, with CALM's understanding of arguably the biggest issue facing that demographic.
The result was #BiggerIssues. It spotlighted all the comparatively trivial things that guys talk about – from man-buns to celebrity gaffes, superfoods to skateboarding dogs. The activity held a mirror up to all the things that were dominating guy's conversations. Things that, at any given moment, were "bigger" than suicide.
Live social listening powered the creative across social, online banners and digital billboards – pulling in whatever inane subject was monopolising newsfeeds at that moment.
The nationwide creative changed every two hours throughout the two-week campaign, reflecting the rate men take their own lives in the UK.
Guys were asked to lend their voice using their Twitter or Facebook handle and supporters signed up to give permission for a single, synchronised message to be sent from their accounts at designated time on International Men's Day, with the aim of getting the unmentionable topic trending across the UK.