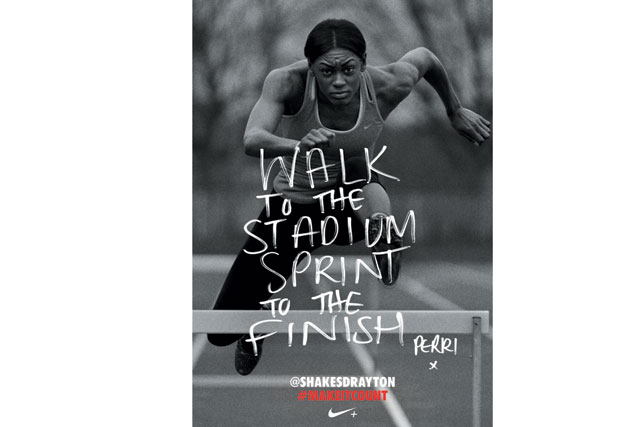 Nike's "#makeitcount" hashtag strand on Twitter is not just about sweaty plimsolls and 5K slogs. This week, for instance, the most inspiring contribution was made by @Bagginz585, who said, perhaps a touch dramatically: "Every tweet could b your last before a tragic death ... #makeitcount."
Cruising on Twitter, you will find that @Bagginz585 is not alone in contributing such sage - and impassioned - thoughts. In other words, "#makeitcount" seems to be a rather successful marketing initiative in the social space.
Nike launched its "make it count" campaign at the start of this year, with posters featuring a number of the UK's top athletes outlining personal aspirations for 2012. It then encouraged everyone else to join in on Twitter and announce their own goals via the aforementioned hashtag.
Almost immediately, though, the campaign entered a grey area when two of Nike's acknowledged brand advocates, the footballers Wayne Rooney and Jack Wilshere, posted Tweets accompanied by the campaign hashtag.
In June, having investigated complaints about this, the Advertising Standards Authority ruled that the Tweets should have been flagged more clearly as ads, but as they weren't, they breached the CAP Code rules on recognition of marketing communications.
Nike, therefore, goes down in history as the first advertiser to have its wrist slapped for UK-oriented marketing activity on Twitter. And it quickly followed this achievement by being the first advertiser to appeal, having requested last week that the ASA put its ruling up for independent review.
It probably won't be the last. The ASA rules evolved, obviously, in the decades across the latter half of the 20th century, when the only advertising opportunities were in paid media channels.
The notion was that the general public regarded editorial material as objective, reliable and authoritative. The guardians of industry morality, therefore, decreed that advertisers, whose vested interests rather precluded objectivity in their advertising messages, should not attempt to beg, borrow or steal this clothing of editorial integrity.
And, by and large, it made sense - though, in more recent times, deregulation has blurred the lines to allow TV sponsorships and product placements and sponsored sections and features in newspapers.
But there are those who argue that the old rules make less sense when you're dealing with the likes of Facebook and Twitter, which have no authoritative editorial content. The ASA's response to the Nike appeal (not due for a couple of weeks at the earliest) will help shape how advertisers behave on social media platforms.
1. Nike isn't the only advertiser risking the ire of the ASA over its Twitter activities. Last week, The Only Way Is Essex's Gemma Collins (564,000 followers) was reprimanded for two Tweets in which she claimed that her hair looked amazing after a visit to Toni & Guy in the Lakeside shopping centre. She encouraged her followers to visit, adding that they could receive a 10 per cent discount by citing her name. The ASA ruled that these Tweets should have been clearly labelled as ads. In its defence, Toni & Guy claimed that the whole episode came about solely due to Collins' spontaneous enthusiasm and was not a planned piece of marketing communications.
2. Back in March, however, the ASA cleared a Twitter initiative in which the footballer Rio Ferdinand and the former model Katie Price promoted Snickers. It ruled that the Tweets in question were readily identifiable as marketing initiatives.
3. The ASA argues that the same rules will always apply to ads and promotions, regardless of the platform - and its unchanging mantra is that all marketing communication initiatives have to be "legal, decent, honest and truthful". An ASA spokesperson adds: "The argument that the so-called old rules can't apply in the social media space is a false one. In fact, the industry actively supports the rules extending to advertising in this area. It promotes consumer trust and establishes a level playing field for competitors."
4. It has been mooted by ISBA, the Internet Advertising Bureau and the ASA that one solution could be that any advertiser-paid Tweets or sponsorship messages carry an #ad or #spon hashtag, as ads shouldn't mislead and should be clearly identified as marketing communications.
WHAT IT MEANS FOR ...
Advertisers and agencies
- The cutest move you can pull as a digital economy guru is to argue that social media will inevitably take us all, sooner rather than later, into a territory beyond advertising. If you're extra clever, you can also imply that this will make it eminently possible to get something for nothing.
- The "something for nothing" extra value often comes, theoretically, from blurring lines in order to disguise an ad's true source or purpose.
- And yet the reality is that, if you work with actual advertisers and actual campaigns, you are (some few isolated examples aside) unlikely to have much appetite for upsetting the likes of the ASA.
- Robin Grant, the global managing director of We Are Social, doesn't question the ASA's legitimacy in the area - but he would like to be more confident about the quality of its adjudications. "I feel they've allowed one initiative they should have ruled against and ruled against another one they should have allowed," he says.
Social media companies
- Similarly, the theoretical worth (astronomical, in some cases) of social media companies is often predicated on their supposed ability to create new commercial models. These recent controversies perhaps show how hard that might prove to be.
- Last week, a Twitter spokesperson stated: "Traditional regulations apply on Twitter as they do on any other platform. Advertisers should think about their activities on Twitter in the same way - whether organic or paid-for campaigns. With our promoted products, we always provide disclosure about something being a promoted message."