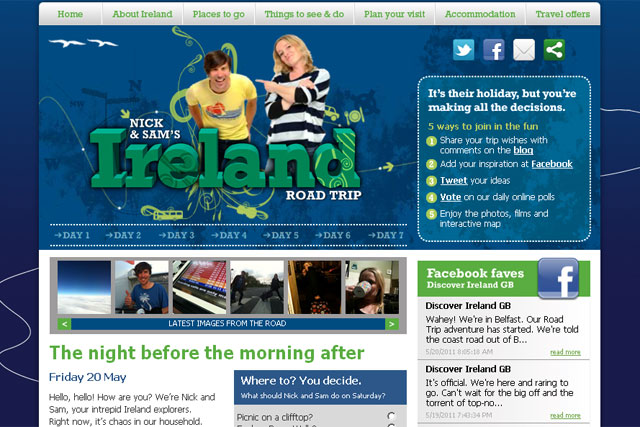 The campaign has been created by Indicia, the customer intelligence agency, and is dubbed "Nick and Sam's Ireland Road Trip". It will showcase the attractions of Ireland in a bid to sell the trip to other potential visitors. It is supported by online and PR activity.
A Discover Ireland microsite will follow Nick and Sam as they travel between Belfast and Cork, with no fixed route.
People can send suggestions about where the couple should visit through Tourism Ireland's Twitter and Facebook feeds. Prizes will be given to users each day to reward them for their engagement with the campaign.
The couple will continually share maps and video blogs, and upload photos on to a live photo feed, for the public to see their suggestions being carried out throughout the day.
At the end of the seven days, Tourism Ireland will hold a prize draw to send a group of four to Ireland.
Sarah Rogers, consumer engagement manager at Tourism Ireland, said: "By placing Nick and Sam in the safe hands of our social media communities, they'll be taken on a whirlwind tour of all the best hidden spots and iconic experiences.
"By bringing our consumers along for the journey, we're hoping to inspire them to start planning their very own road trip."
Last week, Tourism Ireland handed its £50m global advertising account to Publicis.