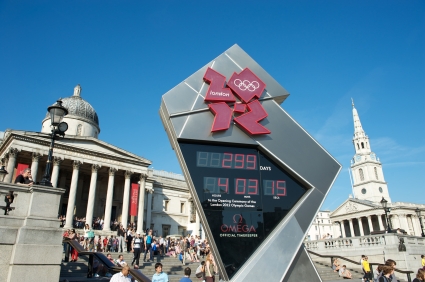 London 2012 is just nine months away. Sponsors are inevitably looking to capitalise on their involvement with next summer's biggest marketing opportunity, and nowhere is this more prevalent than in social media.
The last Games, in Beijing, seem a lifetime away in terms of social potential. In 2008, Facebook had a mere 100m users, those people on Twitter were producing a total of just 1m tweets a day, and the iPhone was relatively new.
Since then, social media has become almost omnipresent and London is set to be the first social Games with millions of people engaging with the world's biggest sporting event.
Social-media agency Yomego has assessed whether top-tier sponsors are making the most of this opportunity. Using its Social Media Reputation (SMR) index, Yomego examined the social footprint of Adidas, BMW, British Airways, BP, BT, EDF and Lloyds TSB (see below).
The research looked at the brands over a three-month window in the context of social conversations around the Olympics, and scored them on reach, satisfaction and recency, to give an overall Social Media Reputation score (see box, right, for definitions).
Against a backdrop of conversations around the Olympics just starting to heat up, Adidas is the brand that comes top of the sponsors, just pipping BMW.
The sports brand is the official sportswear partner of London 2012 and Team GB. It has said that it will use the Games to try to overtake Nike as the leading UK sportswear brand. It is playing its cards close to its chest, hardly surprising given that Nike's Olympic SMR, at 44.1, is better than that of EDF and British Airways, even though it is not a sponsor.
As well as access to athletes, Adidas has used its urban credentials to push initiatives such as its AdiZones fitness facilities and its links to the world of music. Its YouTube channel recently featured triple jumper Phillips Idowu and rapper Snoop Dogg taking on the Team GB basketball players.
Satisfaction is high, with the majority of discussion on Twitter and a quarter of Adidas conversations on credible news sites, which boosts its SMR.
As a sports brand, Adidas and the Olympics are a snug fit. Association is not as easy for all sponsors. Banking may lack Adidas' cool credentials, but Lloyds TSB sees London 2012 as a way to emphasise localism.
Gordon Lott, head of London 2012 partnership and group sponsorship at Lloyds Banking Group, says: 'Community is at the heart of our London 2012 partnership, and we continue to use our social-media platforms to bring the Games closer to our customers and give them the chance to get involved.'
Lloyds has used Twitter as the main platform to promote its Torch Relay nomination process and to share related stories and photographs.
Its 'Local heroes' programme funds emerging sports stars and has a powerful social presence. Over the next year, the brand hopes to capitalise on its involvement with exclusive content.
BT is also taking a grass-roots approach, emphasising communication with the BT Storytellers campaign, which has recruited 100 people to record their stories of London 2012.
Suzi Williams, BT group marketing and brand director, says the initiative brings together contributors who post material on several channels including Flickr, YouTube, Twitter and blogs.
'Effectively, this is a socialising of our London 2012 sponsorship, enabling the BT Storytellers to reach out with their personal stories, both to their network of friends and way beyond,' she adds.
When compared with its overall social ranking, BT has a higher SMR in relation to the Olympics, testament to a ramping-up of its involvement in recent months. This has included a Record Breakers ticket competition, a Coaching for Life programme encouraging trial of sports, and a Communication Triathlon for fourto 11-year-olds.
An impressive array of sporting ambassadors can also be called on to boost social traffic, and its efforts keep it in the news, which accounts for 54% of direct Olympic mentions.
Just below BT in the Olympic standings is BP, which has a presence on Facebook, YouTube and Twitter since its ad campaign '2012: Fuelling the Future' launched in July. The company reports that YouTube has generated the most engagement, with more than 1m views.
BP is promoting a green message with its Target Neutral campaign, which will offset the carbon emissions of visitors to London. Utility company EDF is also going for an environmental message with its Team Green Britain campaign. One million members are being encouraged to reduce their carbon footprint ahead of the Games through dedicated Facebook, YouTube and Twitter channels, sharing exclusive content featuring athletes such as Victoria Pendleton and Ellie Simmonds.
'As London 2012 gets closer we will continue to look for ways to use social media to further bring to life our involvement with the Games,' says Gareth Wynn, London 2012 programme director at EDF.
The sponsor with the lowest SMR to date has been British Airways, which is a surprise, given how active it has been.
Its fortunes demonstrate the vagaries of social media, and the lack of control brands have. Despite a social programme including backing for its Great Britons campaign, featuring Heston Blumenthal, Richard E Grant and Tracey Emin, the brand has a low score. Its SMR has been affected by mixed commentary on its 'To fly. To serve' campaign.
According to BA, there is plenty of exclusive content in the pipeline. Its status as the official airline of Team GB gives it great access to athletes such as Jessica Ennis, Louis Smith and Shelly Woods, who all feature in a print campaign with the strapline 'They will fly'. Behind-the-scenes interviews and photos are promised, and an official Olympic calendar will be given away exclusively through Facebook.
The good news for BA, and others, is that there is still plenty of time to make a burst for the tape, and things can change very quickly in social media.
See MySocialMediaReputation.com for more detail and other league tables.
WINNING AT THE GAMES
Yomego managing director Steve Richards (@YomegoSocial) gives his tips for exploiting London 2012 on social media
1. Embrace technology At £40m a go for a seat at the sponsors' top table, ticket giveaways should be just the start for brands wanting to maximise their association. There's a golden opportunity to take social engagement to a whole new level, but the price tag will make some play safe. The big winners will take a risk and embrace innovative technology.
2. Be distinctive Multiple sponsors are playing the 'green' card, or have signed big names for their campaigns. These will cancel each other out. Dear old BT appears to have been quickest to explore different angles. Adidas needs to be doubly distinctive as every 2012 medal will feature a Greek goddess by the name of ... Nike.
3. Plan a legacy Social channels are ideal for migrating audiences from one campaign to the next. The challenge is how to capitalise on engagement levels next August and manage the transition of that interest to the next big campaign.
---
The scores
Reach The relative ubiquity of mentions around a brand on social media, compared with sector rivals.
Recency Reach this month, relative to reach in the previous three.
Satisfaction An aggregated sentiment score taken from Alterian SM2 and human analysis.
Recency Satisfaction this month, relative to reach in the previous three.
SMR score The average popularity score, out of 100.