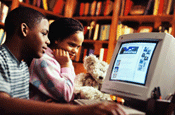 The report, called Global Faces And Networked Places, has revealed that such sites are now visited by more than two-thirds of the global online population, accounting for almost 10 per cent of all time spent on the internet.
The category is growing twice as fast as any of the other four-largest online sectors, which incorporates search, portals, PC software and e-mail.

Of the social network sites, Facebook remains the world's most popular, with three in every ten people accessing it. In the UK alone, 47 per cent of online users visit the site.

According to Nielsen, the social network and blogging audience is also becoming more diverse in terms of age, with the biggest increase in visitors to the sites during 2008 coming from the 35- to 49-year-old age group.

The UK also saw a 249 per cent increase in users visiting social network sites through their mobile phone, with around two million people now doing so.

John Burbank, the chief executive of Nielsen Online, said: "Social networking has become a fundamental part of the global online experience. While two-thirds of the global online population already accesses member community sites, their vigorous adoption and the migration of time show no signs of slowing."