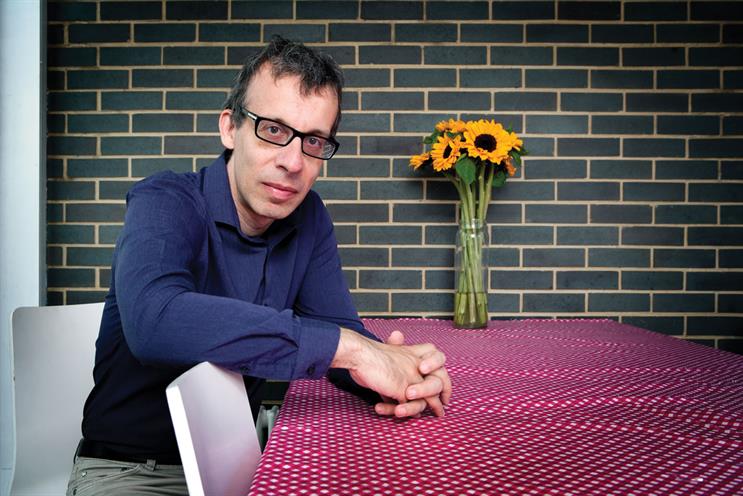 To many, David Schneider will always be the guy from I'm Alan Partridge, a fictional BBC commissioning editor on the receiving end of the Steve Coogan character's immortal "smell my cheese" line. For his part, Schneider is at ease with this legacy, and even stops to enjoy the irony when he catches himself saying that he hates cheesiness in film-making.
But Schneider has moved on from Partridge. The writer, actor and director continues to write, act and direct (his Radio 4 sitcom Births, Marriages and Deaths has just been given a second series), and he is now adding another line to his CV – as a social media consultant. He is launching a company called ThatLot in September to advise brands, companies and even ad agencies on how to succeed on social media.
Schneider's own success on Twitter is compelling. He has more than 100,000 followers, and the outcry when he took a break from the site was such that The Telegraph covered it as a story. Campaign caught up with him to ask Schneider about his latest venture.
Why do you want to work with brands?
I started as an actor, then I started directing, including ads, and that fascinated me because it matches my personality as a writer and director, which is quite obsessive. In TV, you often don't have time to focus on every single element whereas, with advertising, the detail is crucial.
Then I started looking at how brands were working on Twitter, and a lot of it is quite poor. As I'm a Twitter evangelist, rather than having sharia law, I think we should have a "Twitter law" across the UK for brands that do social badly.
I think we should have a 'Twitter law' across the UK for brands that do social badly
How did you get started on Twitter?
I've been on it for four-and-a-half years and I've been obsessed by it – I've realised that I must take Twitter breaks if I'm going to get any other work done. I have a loyal following and one that punches above my weight celebrity-wise. I'm a very minor celebrity; I wouldn't even say I'm Z-list. It's like when you go to the footy and, after Z, the seating rows go AA, AB – I'm well into that. But, because I work hard at Twitter, my following is quite good.
Why do you think humour is so important for brands on social media?
It's an instant hook. There is so much out there that, to cut through, you need something different. It could be bribes – and that does work – but, really, humour is a lot cheaper. If you get loads of retweets, then people are carrying your brand around the internet for very little money, and humour is more likely to do that than anything else.
One slogan I've got is that "topicality is the multiplier of humour". I've got a [Education Secretary, Michael] Gove joke I'm waiting to do. It's in the garage and I polish it every now and then. I'm waiting for when Gove does something that really goes mental. I could do it now and it would do quite well but, with the multiplier of topicality, my beautiful Gove joke will do really well. If you can catch the topical, that can really get you purchase – and at a fraction of the price that you can do it for TV.
What's the biggest mistake you've made on social media?
I tend to be irritatingly careful and right-on but sometimes I get things wrong. I did a joke about NHS cuts, which was meant to be right-on and anti-government, something like: "To save money, transgender people have been told to man down and lose a pair." The way I phrased it was all wrong for transgender people and I got a bit of stick for that, but I learnt. Every time a person is on Twitter, you are going to offend people.
What about brands that don't want to be funny?
I'm about to sound like I've got a slogan, but… it's not about humour, but human. Aargh! I've just made myself ill. I'm talking to some charities just now and they are unlikely to say "we've got this hilarious person with a terrible disease", but they will still have more impact if the way they Tweet is more human.
Which brands have got social media right?
I like Skittles, which is known for doing social media well, particularly on Facebook. I like brands that aren't too hung up on the product. Betfair Poker is the one that is always quoted; Arena Flowers is another one and Waterstones Oxford Street. These are just very funny accounts.
When looking at social media, how much should brands focus on Twitter in relation to other sites?
My expertise is in Twitter but I'm also looking at Facebook. If you're a brand that lends itself easily to pictures, you might want to strengthen up on Facebook. It seems to me that a lot of brands are stronger on Facebook than on Twitter, although I think there's still a lack of versatility. But Twitter is where I think there is a huge gulf between potential and what is going on now.
You've also acted in ads. Which ones?
I have not done it since I've become a bit of a face, but I was the voice of the Renault Mégane, which was the best gig I ever had. I was flown to South Africa for three weeks just to sit at the foot of a car and improvise some dialogue with Tony Gardner [the actor from The Thick Of It and Fresh Meat] who was the first driver. That was marvellous. It was just after apartheid had been dismantled and it was very exciting. It paid well in those days, too, I can tell you.