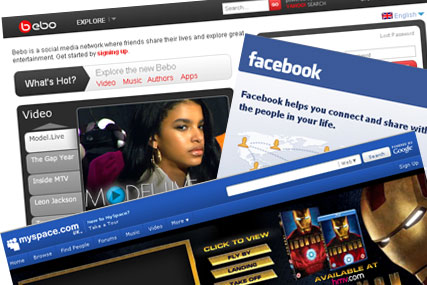 Social networks fared well in the IPA's fourth Digital Media Owners Image Survey, seen exclusively by Media Week.
The survey reveals that the delivery of innovative creative is a particular strength for social networks. Respondents ranked MySpace and Bebo as the second and third best of all digital media owners in terms of delivering strong creative. Meanwhile, Bebo and Facebook were ranked the sixth and ninth best media owners in terms of overall sales service.
Mark Charkin, head of sales, UK and Ireland, attributes Bebo's success in part to its original programming such as Sofia's Diary. "Bebo Originals are funded by brand integration and an ad revenue model developed by Bebo," he said.
The IPA survey revealed that, despite Yahoo's recent troubles - last week it said it would axe 10% of its staff as profits tumbled by nearly £100m - it has significantly improved its perceived commercial performance. Fifty five per cent of agencies said they were satisfied with Yahoo's customer service, compared with only 38% in the last survey in April.
Yahoo managing director, UK sales, Mark Rabe said: "We have been teaching the sales teams what the Yahoo product portfolio is, how it fits together and how we can best offer that to our clients."
Specific Media (formerly Adviva) topped the survey - the first time an ad network has done so. Microsoft's MSN.co.uk came out as the best-performing digital media owner.
After a period of change in its digital operation, which recently saw its digital chief Mike Moore leave after just five months at the company, Telegraph Online came out as the worst-performing newspaper website in terms of overall sales service.
But digital director Alison Reay said: "We now have a very strong foundation to build on our relationships with agencies."
In other findings, ITV, which has ambitious plans to generate £150m in online revenues by 2012, was ranked 19 out of all 25 media owners in terms of providing an overall good sales service. Meanwhile, only half of respondents (49.12%) thought their experience of dealing with AOL, which has restructured its entire commercial operations into Platform-A, was a good one.