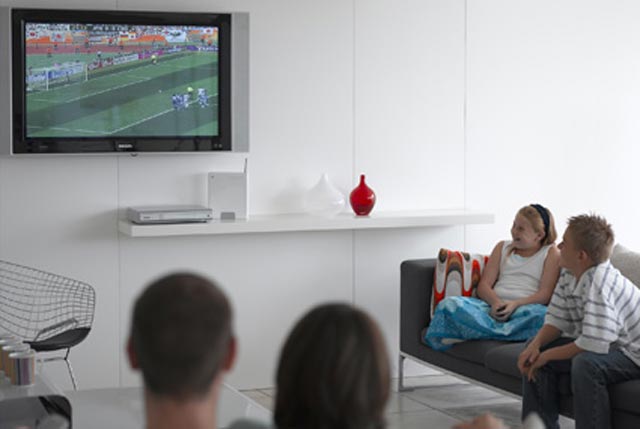 People have been talking about TV in this country since the first broadcast via Baird Television LTD in 1929. It had just enough resolution for a close up of one person.
Imagine if Twitter had been around then: 50% would have said it's great, 25% would have grumbled about the picture quality and 25% would have said "It's all bloody repeats."
At Kantar Media we wanted to find out what people are doing during television programmes, and what are they doing it with.
Using our futurePROOF study, carried out amongst 2,000+ adults via TGI Postscript, we investigated the UK population's usage of and attitudes towards this thing called 'social TV'.
Defining what we mean by social TV is a process akin to nailing a blancmange to the ceiling; the TV Licensing team came up with Chatterboxing as a new name for social TV recently.
They define this as watching a programme on TV whilst talking to others about that programme online, normally via a social media platform. They suggest that circa 26% of us have done this - this alone is an interesting number.
However, it seems to me that this is putting the new-fangled cart of social media before the more traditional horse of other communications tools; things like telephones and that thing on the front of your face that I like to call a 'mouth'.
We asked our respondents to say whether they did any of a wide range of things whilst watching TV.
This ranged from the old fashioned discussing a programme in person to posting a comment on a social networking site, to the very specific using of an app specific to a particular TV show.
While the old-fashioned face to face method is still popular, people are communicating more via telephone (55%), and a third of adults say they have visited a social media site during a TV show, with 24% of the population having left a comment.
However, while there is not a direct link between visiting the social networking site and discussing the programme they are watching, we can see a correlation between the two.
There is also a good story there for programme makers, with 40% of adults saying they looked up information related to a TV programme, and 20% saying they looked up information they saw advertised.
Our futurePROOF study also revealed that people are more likely to be waiting until the breaks to look things up, but actually hold their conversations during the programme, whether that is about the show or not.
What are they using to communicate?

The phrase second screening is becoming ubiquitous in our industry, and at home it's just what we do, but which device has the ascendancy?
According to our work it is the mobile phone that is still in charge overall, with 46% (50% in mobile phone owning households) using it while watching TV. However, laptops are not far behind at 38% (and this rises to 55% in houses with a laptop in).
Tablets, which as we all know are here to change everything and cook the dinner lag behind on 6% overall, but this rises to 50% when we make sure they have a tablet device in the household.
Interestingly, 36% of the population that say they just sit and watch TV: they don't use any other device. Odd behaviour - it will never catch on.
Services that allow you to 'check in' to what you are watching are proliferating at a rate of knots and we had a look at awareness of these services, and of the three that we looked at in our survey we saw that just over 10% of the UK population were aware of at least one of them.
The services we looked at were Zeebox, Miso and GetGlue. Miso and GetGlue have some catching up to do in order to match Zeebox's awareness amongst the population with Zeebox at 9%, and the others at 3% and 2% respectively.
Is this evidence that the on-screen trails and ad campaigns are working for Zeebox, and TV tie-ups? I'll leave that up to you to decide. It will be interesting to see how this has changed in our next wave following a summer of sporting activity, and the launch of Zeebox's new Euro 2012 interactive functions.
Good news for these apps and broadcasters alike is that a quarter of the population agree that it's very important to be able to take part in conversations about popular TV shows.
Interestingly, it's women that are more likely to agree with this statement, but men are more likely to agree that they often talk about TV programmes through Twitter, Facebook or other forums, and also that they enjoy programmes more "when I can discuss them simultaneously with people through social media". Has this replaced the need to be in charge of 'the buttons'? Not yet, but maybe soon …
There is also good news for scriptwriters, and possibly disturbing news for the actors in the sense that there are six million adults who agree that they "feel closer to the programmes and characters on screen when I discuss them" - 1.1 million adults who are aware of social TV apps like Zeebox agree with this statement.
Alongside all of these lovely numbers, we ran some qualitative work to get a feel for where the technological revolution is heading towards, and also to put some context around different modes of social TV communication.
We asked people about the difference between Facebook and Twitter in a social TV context and it would appear Twitter seems to be about the kneejerk reaction and commenting.
It's much more random, more celeb focused, and not just in their circle of friends, whereas, Facebook is more about a selection of your own friends, and a more focussed discussion.
There is a single thematic link via Facebook among a sub-group of friends as opposed to Twitter where you are dipping into a stream, in the live moment.
Just as social TV/chatterboxing - delete as applicable - is in its nascency, so is our futurePROOF study. We don't have all of the answers, but this is the start of our journey into this investigation, we look forward to being able to provide you with more information as it comes in.
Sources: Unless otherwise stated statistics taken from Kantar Media's Q1 futurePROOF 2012 survey run via a telephone methodology speaking to 2,062 nationally representative GB adults
Mat Riches, associate director, Kantar Media Custom