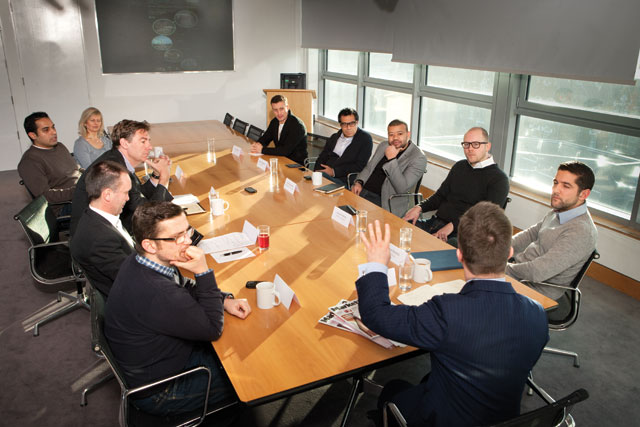 So what makes a great "social video", one that millions want to share? Why do people want to share ads? How do you get your film noticed? How much good does it do the advertised brand?
Agency experts and top marketers from Unilever and Lloyds Banking Group, met at Campaign HQ for a breakfast discussion, in association with Unruly, to thrash out the issues around social video and to do some sharing of their own.
We're seeing big arguments about the validity of engagement models and how to interact with consumers. How are consumers changing and how are brands reacting?
Jerry Lloyd-Williams, strategy director, MediaCom: The interesting thing about new consumer trends in the digital age is that there aren't any. We're all still human, we just have many more ways to communicate. One of the key triggers for sharing video is how good it makes you look. If the coolest guy in the gang sends you something, you pass it on without even thinking because of the social cachet.
| | | |
| --- | --- | --- |
| | | |
| | 73% of those who viewed a recommended video recalled the brand when they were prompted | |
| | | |
Matt Roskill, client services director, Albion: And content is still content. What's changed is that we now have more frictionless ways of distributing it and there's an interesting social layer on top, a motivation for sharing because of the kudos it brings.
Dean Baker, managing director, JWT Entertainment: Yes, and as we move away from the interruptive model, where we rented an audience that belonged to something else, to an engagement model…it sets a new benchmark for quality. If you're making content that's average in any way, you might as well forget it.
Waqar Riaz, head of social marketing, Rapp: The big trend is the shift of power, triggered not by media or people, but by technology. If we look at video specifically, content has always been key; what has changed is the measurement.
Andrew Stirk, executive planning director, BETC London: Google talks about "zero moments of truth", those points of decision–making which are disproportionately influential. The way we make decisions is evolving and it's fascinating because what were invisible conversations –in the bedroom or in the pub – are now that much more conspicuous. Video is accessible and easily shared, it's another form of currency. And this point about taste is enormously important; sharing film choice is a much easier way now of expressing quite complex things.
Phil Townend, EMEA managing director, Unruly: What's fascinating is that 16 to 24 and 25 to 34 year olds don't distinguish between the virtual and the real now. They expect brands to appear on social platforms just as they exist in real life. This came out starkly in our research with Decipher and Cornetto, Coca-Cola, Guinness and Energizer. Females between 16 and 24 would rather be at home accessing all their friends through the social platform than be physically with them. Celebrities or close friends are very influential for females. Males of that age are most influenced by forums or mates. TV is still credible but it's losing influence.
"Two years ago, brands didn't want to be on blogs, but on premium web sites and ComScore top 100 sites. Now they want social networks, blogs and niche passion sites. In two years, they'll probably want this plus social gaming - it's where engagement is happening.
"In terms of consumers, Forrester predicts this is the year of the multi-screen device. But for brands, it's all about the ROI.
Asad Rehman, Director – Global Media, Foods, Unilever: Marshall McLuhan said every mass media is social in nature. Now we can say every social media is mass in nature. Content is being unbundled…and content creators are becoming publishers. So we are witnessing the whole disruption of the media economy.
We still spend 75 per cent of our money on TV but we've started looking at video differently. We used to have 30 seconds to tell a story – moment of truths, product demo, reason to believe, logo shot…there's a formula and we all followed it. But video is the starting point of a conversation with consumers now; it's no longer an end in itself, which is the major difference and very exciting.
Joe Clift, former Brand and Customer Marketing Director, Lloyds Banking Group: What's really fascinating is how social media per se, and video increasingly, is a source of trust and significant influence around perceptions of a brand – which is clearly critical in financial services.
It's a wonderful thing - and also a potentially troubling and dangerous thing. Because you have to have the skills to manage it.
| | | |
| --- | --- | --- |
| | | |
| | 49% of viewers of a recommended video purchased the advertised product within three days | |
| | | |
What are benefits of social video and theopportunities for brands?
Ivan Fernandes, global director, social media technology, MediaCom and member, GroupM global social marketing task force: It can bring brands closer to audiences. Experience delivers engagement. But most brands need to work out their principles for social media. Who should be engaging in it? Agency or clients? What are the KPIs behind it?
AR: You can't ignore the consumer voice. Branding decisions aren't made in the boardroom any more.
DB: The model has been flipped on its head. Instead of a brand being central, now it's the consumer and it's about building the community there. If you do fantastic content which lives online, it gives a brand character and consumers get to know what it stands for.
What is video good at?
AR: Pretty much everything. Just a couple of days ago I was talking [internally] about video for e-commerce.
MR: Video is really powerful in storytelling but it's no longer a linear story. Old Spice created content that enabled you to pick up the story at any point on different platforms and in a variety of ways. It's about understanding how we can capitalise on messages and leverage technology to get consumers to make that final decision.
Why did Evian's rollerskating babies work so well?
AS: French doctors always told mums Evian was the water for babies. There was a meme around laughing babies but there was also a truth for the brand. We obsess about the quality of our creative but the real value for clients is in building connections that build a brand's influence. This is where the old ratio of production budgets and media is fractured. The right production can have built-in media value.
What are the dangers of forcing a brand association?
JC: It's about making sure you focus on what's true to the heart of your brand. You can't stretch your brand shamelessly and artificially into areas.
IF: There also needs to be more client trust of creative and media agencies.
AS: And it's about legitimacy. Is it legitimate for the brand to have a point of view here?
JC: This really goes to the heart of the debate. You have to be able to deliver, end to end, now and forever. It would be so easy to trip up, given the power of social.
IF: It's about understanding your audience and having a story. Not just a video but a story.
PT: More brands are starting to understand that if you want to take a piece of content from nought to 20, that's the seeding bit you have to pay for and you will hit that adoption curve. If you have genuinely good content that genuinely creates conversation, then it will go from 20 to 80 itself.
Fewer brands come to us and ask for a "viral hit". Because there is only one a year. VW's "The Force" for Passat is the most shared video ad of all time with 4.8 million shares.
But social is the best real-time listening device we've ever seen; a realtime feedback loop that should be used to pre-test creative and develop channel planning.
WR: Honesty is key. But there's something I think we're totally missing on video. Forrester says 60-70 per cent of the online population are spectators, who don't share. So we need to understand: what are the technologies and who are the people that influence consumption?
What makes great social video?
PT: For brands, it's about finding out what the next consumer trend is and getting into that.
MR: The most effective films are 15 seconds long, and then it's 60 seconds or more.
WR: We have opportunities today we never had.The stuff we can create, how we connect with people, how they connect back, it's beyond advertising. It's not about ad ideas, but brand ideas. It's not about sending a message out but creating an orchestration of messages. With video, it's about old tricks, new media. It has to be engaging, quality content and that's it.
AR: I love Facebook's "social by design" philosophy – ask the questions: "why would people care? Why would people share?" and you create good content.
What are implications for the wider media landscape?
AR: We don't look at social video as a conflict with the rest. It's an eco-system. You've got to put things into perspective, people are still watching ad breaks. Sky's Zeebox app is interesting [in which TV viewers can decide what they watch based on what other people are saying].
IF: There's a huge opportunity for social video. It's about getting closer to audiences. Finding who the key influencers are and bringing them closer is the key for me.
AS: The role of video as a social currency is myriad: entertainment, utility, dynamic customer complaints…that new relationship between brands and society which can no longer be confined to campaign periods is very exciting.
What next?
JLW: The challenge for us is to make better stuff. In five years' time, it will be imperative because social will have become the thing that can either kill or cure businesses.
DB: Brands need to create liquid content that can flow across every platform, every device. You need to being authenthic because if you start trying to spin things and not being honest, you'll be annihilated in the social environment.
WR: We're standing at the beginning of something very big and exciting. Google recently said there are 3.3 billion brand mentions every day but so far only five per cent are online. And video is the closest piece of content to our nature.
It's life in motion and that's why we relate most effectively to it.
PT: We can't quantify the value of social video yet but that, for me, is what we need to change over the next five years.
To visit Campaign's Social Video hub, go to: campaignlive.co.uk/go/socialvideo