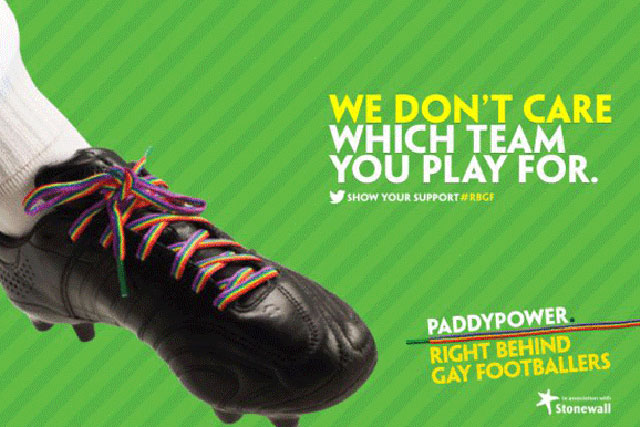 "We condense it into these four things – everyday, unpredictable, live and campaign," said Newton, who was speaking at the Social Brands summit in London yesterday.
"'Live' is things you know are going to be happening and know you want to be supporting," Newton said, using the example of football transfer deadline day in the UK.
There were 1.9 million tweets about the event and brands, such as Paddy Power, were ready to get involved in the conversation with prepared images for when the most anticipated transfers were announced.
Hashtags are widely used by consumers during live events, Newton said, with 66% of Twitter users watching live events and 77% of people actively tweeting with event hashtags.
Campaign element
As an example of the "campaign" element, Newton used Paddy Power's 'Right Behind Gay Footballers' work as an example.
Brands often over-focus on the "unpredictable" element of Twitter activity

.
At a time when there were no openly 'out' footballers, Paddy Power's campaign message said: "We don't care which team you play for."
The bookmaker used print to drive knowledge of the campaign, as well as out-of-home, identifying key influencers and getting them to tweet about the campaign, such as Gary Lineker.
The brand found that other people, such as Stephen Fry, started to become involved in the conversation on Twitter.
Newton said that ad recall is higher when TV work is supported by activity on Twitter, with two-thirds of consumers searching for products and brands they've seen advertised on TV.
Everyday part
The "everyday" part of brand activity is what Newton said companies "should be focusing on the most".
The weather is a subject that brands have been able to get involved in. Newton explained that, during a recent spate of thick fog, Aer Lingus used it as an opportunity to talk to its consumers by tweeting a picture showing the extremity of the weather from its control tower.
Newtown said: "[It was Aer Lingus] understanding that they had relevance in this area as well and giving a different message to 'our flights are delayed'. Ultimately, it was the same message, but it was bracing [consumers] for when it comes."
Brands often over-focus on the "unpredictable" element of Twitter activity, Newton said, although he singled out Nando's as a recent example of a brand getting this element of reaction to unpredictable events correct.
When footballer Adnan Januzaj, who reportedly earns £30,000 a week, went to Nando's for an £18 dinner on their first date, Nando's responded by tweeting that the second date was on them and sent the couple some vouchers.