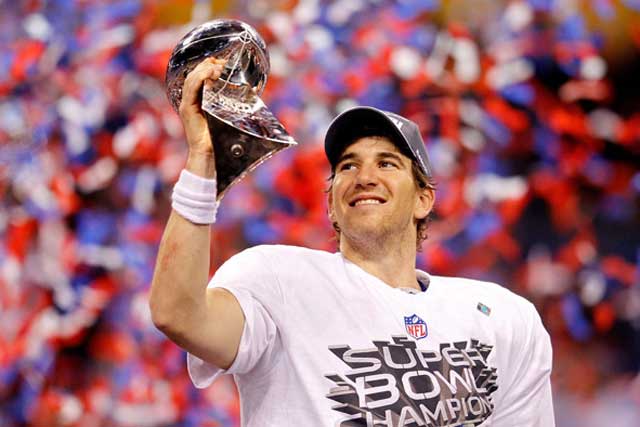 I got to Heathrow just as the first flakes were falling. London was about to be crippled by a paltry four inches of snow, but I intended to return to the US even if I had to swim. I was heading to Pennsylvania for my first Super Bowl party.
Having lived most of my life in Asia and Europe, I have watched plenty of football, but I am still a bit of a rookie when it comes to the American variety. And what better way to fix that than during the Super Bowl, the US's grand display of backslapping, hell-yeah-Americanism?
I landed back in New York, collected my Ford F-150 pickup truck and stopped at home to change into Red Wing boots, a Giants jersey and a Cabela's cap. The truck and I headed to the countryside, where four inches of snow is considered a light dusting. Two hours later, I arrived at Jeremy's house and met up with my fellow Giants fans and a big black Labrador named Lady who rooted for the Patriots. Jeremy, Dave, Peter, Big Leroy, Ray and the rest of the guests sprawled all over mismatched furniture in a man-cave of a den, paper plates on their laps piled high with Doritos, chicken wings and steak, with a beer (or two) close at hand.
Every year, the American media spills endless words on speculation about the big game: who is healthy, what is the Vegas line (bookie lingo for "odds on"), which team is going to win and why that is a crime against the universe. This time around, things were a little different. Ever since Apple's 1984 ad, the Super Bowl ads have become an ever-more important part of the experience, and the steady reveal of the great work as the game marched on has become one of the most anticipated parts of Super Bowl Sunday. The ads could be counted on to be great, even if the game sucked.
Last year, Volkswagen upended that tradition by releasing its sweet "the Force" spot on the web well before the game. The gambit worked - due in no small part to the strength of the ad itself - and, as day follows night, the web was flooded with teasers and early releases this year. I think some of the fun has gone out of it, and, in my book, great ads don't need teasers anyway.
At $3.5 million per 30-second spot, I can understand why marketers would want to extend the Super Bowl advertising experience into the chatter of social media, but the teasers set up expectations that no ad could fulfil. The pre-released ads blew their impact before the kick-off. VW's great teaser, "the bark side", garnered 11 million views for its rendition of The Imperial March from The Empire Strikes Back "sung" exclusively by dogs. If only the ad itself had been worthy of the build-up. Still, I settled into my prime spot on the couch in Jeremy's den, expecting to be wowed.
Instead, I saw a strangely softened show. The game is gentler, perhaps due to sensible new rules that safeguard the players from brain injury. But, to my surprise, the whole Super Bowl was feminised. With Madonna at half-time, an amateurish NFL ad that promoted rules and safety equipment, and a healthy chunk of the ads flaunting a baby or a dog, this Super Bowl was a sight less rugged than what I had expected. I know the NFL has to appeal to women - 46 per cent of its audience is female. But does it have to emasculate the audience in the process? The ads took few risks and kept to formulaic chuckle-generators, such as pets, cute babies and cheap, de-fanged gags. All that made the great work - and there was a handful of that - stand out all the more. As for my favourites, well, "here Weego".
Best use of comedy
The charming M&M's characters got a little naughty last weekend, didn't they? A brown M&M, mistaken for having her "milk chocolate showing", inspires an M&M bloke to strip down since "it's that sort of party". Well-executed, funny and simple, this ad by BBDO New York stuck with the joke and thankfully didn't show us the self-aware moment that must have followed.
Best use of man's best friend
So many (too many) dog ads to choose from. VW's "the dog strikes back" by Deutsch Los Angeles might have been the most anticipated in the genre, but it got stuck in the gate, just like its pudgy canine protagonist. Bud Light redeemed all dogs - and the generally tepid showing from Anheuser-Busch InBev - with "rescue dog" by McGarryBowen. In it, a frisky mutt named Weego sprints for a Bud Light whenever someone calls "here Weego!" It's a nice play on Bud Light's tagline, "Here we go", and includes a warm pitch for rescued pets. It's a clever means of doing good while you spend - something consumers want to do these days. In this case, doing good while you're getting pissed!
Not all collaborative brandings were quite as successful. General Electric's "power and beer" by BBDO New York devoted nearly half of its run-time to Budweiser in an ad meant to highlight the real-world implications of all GE products. Jeremy said: "That was the best ad of the night for Budweiser. Too bad it was for GE." I'd have to agree with him.
Best and Worst automotive ad
If this Super Bowl is any guide, product placement in ads seems to be the coming trend. "2012" by Goodby, Silverstein & Partners featured a Chevrolet Silverado pickup truck driving through a post-apocalyptic wasteland on its way to a rendezvous with the only other survivors - all Chevy truck-drivers, of course. The final scene revolves around Twinkies, which are popularly supposed to be so pumped with chemicals that they, apparently, will never spoil. Of course, the real joke is one step deeper: Hostess, the maker of Twinkies, just filed for bankruptcy.
The boys were on their feet for this one, but I held back. Sure, the ad may make you chuckle a bit, but I find the cheap shot it takes at Ford to be inexcusable.
Best use of sex
Sex sells, but, on Super Bowl Sunday, sex really sells. Fiat showed how to do it right with "seduction" by The Richards Group. Go Daddy, on the other hand, showed us how to waste $7 million and beautiful women at the same time with its in-house ads. But it was Teleflora that remembered sex sells best when sex is simple. "Give and receive", also created in-house, featured the breathtaking Adriana Lima husking out the line: "Guys, Valentine's Day is not that complicated. You give, and then you receive." The end super says it all: "Happy Valentine's night." Say what you will about unsettling economic undertones and tawdry sexual exchanges - this ad works.
Best use of a celebrity
More than just that, this is the best ad of the night, as far as I'm concerned. Clint Eastwood, with a voice like crumbling asphalt, picks up where Chrysler left off in 2011 with a beautifully written locker-room speech for America. The huge emotion this ad evoked came as a breath of fresh air, reminding me of what a great Super Bowl ad can achieve with great writing, beautiful direction, haunting sound design and a clear, succinct message. This spot, by Wieden & Kennedy, lived up to the responsibility of producing something for more than 100 million viewers, and it did it with panache and class. Exquisitely calibrated to its audience and sensitive to their experience, this ad drew a clear parallel between the resilience of ordinary Americans and the durability of their nation. It was an ad for American exceptionalism as much as it was for Chrysler. Coming at the tail end of a brutal recession and in the midst of a punishing election cycle, Eastwood's speech cut through the night and spoke for his whole nation.
That was my highlight of the night. Here was an ad that spoke to blokes without alienating women. Here was the gritty emotion I had been seeking and the essence of this particularly American spectacle. The other guests might have been a little more enthused by the Giants' victory, but this ad kept coming back in the conversation. It provided the narrative for the night. Unlike everything that came before, Chrysler's ad made its impact within the confines of the spot itself.
It was a great game, and, after watching the Giants claim their trophy, the evening broke up. The guys stood, stretched and prepared to hit the road. Everyone hugged, and everyone asked for that wings recipe. I headed out to my truck convinced that football in America has gone a little soft.
Tham Khai Meng is the worldwide chief creative officer at Ogilvy & Mather
SUPER BOWL STATS
- Super Bowl XLVI was seen by an average of 111.3 million viewers.
For the third consecutive year, it attracted the largest audience of a TV programme in US history.
- The most-watched portion of the game was the fourth quarter, when 117.7 million viewers tuned in.
- The only TV programme to achieve an audience anywhere near that was the 1983 series finale of M*A*S*H.
- Super Bowl XLVI attracted 12.2 million social media comments during and immediately after it - a 578 per cent increase on last year. This made it the biggest social media event recorded in the US, surpassing the 3.1 million who responded to the MTV Music Awards in August last year.
- The US social analytics company Bluefin Labs tracked more than 985,000 social media comments related to Super Bowl commercials.
- With each 30-second spot costing on average $3.5 million, NBC received $250 million from the game.
- Honda's homage to Ferris Bueller's Day Off, 'Matthew's day off' by RPA, attracted the most online views in the aftermath of the game, just ahead of Volkswagen's "the dog strikes back".
- The most-viewed ad of last year's Super Bowl was VW's 'the Force' by Deutsch LA, which has earned more than 90 million web views.
- Chrysler's spot featuring Clint Eastwood eulogising about the country's economic revival sparked a storm, with Republican politicians claiming it was payback to President Obama for bailing the car-maker out with public money.