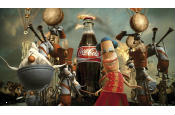 The study, which examined advertising campaigns for four major soft drinks brands - Coke Zero, Coca-Cola, Pepsi Max and Powerade - found that marketers devote an average of 8.5% of their total media budget to the web despite the fact that it contributes 24% to total brand engagement.
It also showed that TV and press advertising are the strongest drivers of brand engagement, contributing 43% and 32% respectively.
Other findings from the survey, conducted by aevolve, showed that consumer engagement with soft drinks brands is determined by five factors: taste (43.2%), affinity (35.3%), differentiation (9.4%), salience (2.6%) and health (8.8%).
Guy Phillipson, chief executive of the IAB, said: 'Combining TV and print with online display ads is a powerful, proven method for delivering higher returns on investment. Striving for resonance is also a powerful driver of brand engagement and ultimately sales. We hope that this study will convince more FMCG marketers to allocate greater budgets to online.'