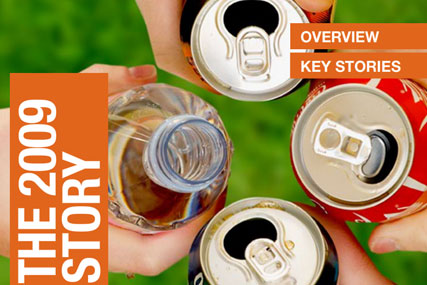 The announcement was made today (30 March) at the launch of the 2010 Britvic Soft Drinks Report, which uses Nielsen data.
Britvic said the report showed a trend of consumers switching from more expensive sub-categories, such as smoothies, pure juice and sports drinks, and trading down to cola, juice drinks and squash.
As a result, the Lucozade brand, which has rolled out multimillion-pound campaigns, saw a sales decline of 3% to £339m, with Tropicana also down 6% to £270m. Ribena was down 3% to £75m, with water brand Volvic declining 7% to £54m.
Coca-Cola, on the other hand, witnessed a sales increase of 4% to £1,018m, despite flat sales on its Coke Zero brand. Pepsi-Cola also saw a sales increase of 4% to £271m.
Murray Harris, sales director at Britvic, said: "Despite the economy casting a cloud over consumer confidence, it is clear from the report that soft drinks tap into consumers' evolving shopping behaviour, by offering choice and affordable options. The wide-range of sub-categories means there is something for even the tightest of budgets."
Across all channels, the market grew 2% in value and is now worth £8.5bn. Cola remains the number one performing sub-category, growing 4% across the channels. It also has a 22% share of soft drinks within take-home, and 41% within on-trade.
Britvic said that in 2009, consumers were prepared to shop around and change their buying habits and, as a result, this impacted upon shopper loyalty to both brand and retailers. According to Britvic, this led to increased promotions across the board.
TOP TEN BRANDS (take-home)
Value %change
1. Coca-Cola £1,018m +4
2. Lucozade £339m -3
3. Robinsons £307m +2
4. Pepsi-Cola £271m +4
5. Tropicana £270m -6
6. Red Bull energy £92m 0
7. Ribena £75m -3
8. Schweppes £68m +4
9. Actimel £68m +7
10. Volvic £54m -7