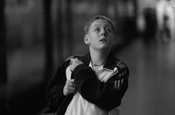 It was joined by Wieden & Kennedy's "problem playground" for Honda, and DDB's "night drive" for VW Golf.

HBO's "voyeur" is also on the list looking for its third Grand Prix, with Project Tokyo's's "Uniqlock" for Uniqlo chasing its second top prize of the festival.

Crispin Porter & Bogusky is by far the most shortlisted agency with four nominations. They are for "Adobe layer tennis" for Adobe, "Whopper freakout" and "Simpsons" for Burger King, and "Coke vs Coke Zero" for Coca-Cola.