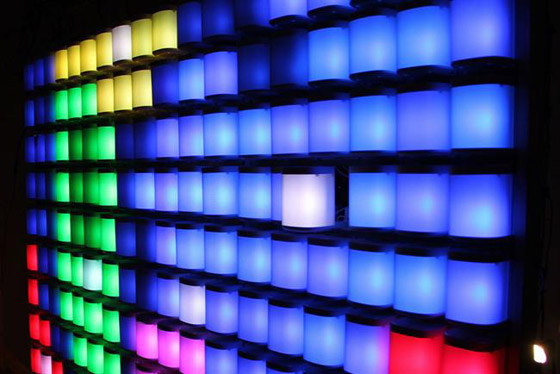 Working with the digital creative agency Perfect Fools, the company has created an installation that allows users to sample New York's art and culture via a 10 metre-square screen built from 300 Sonos Play:1 speakers.
Coloured LED lights pulsate within the speakers, which respond to hand gestures so that users can navigate a map of the city while sampling its musical sounds, ranging from hip-hop and funk to disco and electro.
The installation will also identify from which of the city's five boroughs the music originates.
The 'Sounds of NYC' is one of a number of installations that will be featured at Sonos Studio NYC at New York's Neuehouse, which offers shared work spaces for creative industry entrepreneurs, from 2 to 5 October.
Tony Hogqvist, a creative partner at Perfect Fools, said: "Sonos Studio NYC briefed us to create a sonic spatial installation under the umbrella of architecture, art and product experience. We've mapped the sounds of New York borough to borough so users can break down musical barriers with their hands.
Brad Wolf, the senior director of brand innovation at Sonos, said: "Sonos Studio NYC is an exploration of the intersection of art, music, design and technology in collaboration with New York City, and the installation beautifully reflects that.
"We're taking music lovers on a journey through the soundscape of New York, brought to life by a mind-blowing experiential platform."
Perfect Fools has created and curated the music, along with Daniel Kessler and Joseph Fraioli, the artists behind Big Noble. They will use the installation in a music video promoting their new single.
The 'Sounds of NYC' is designed to travel to other locations, evolving as it goes to reflect the host city's music. It is being promoted by a series of videos and through social media.