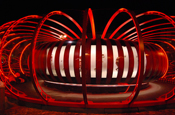 Read Kate Nettleton's blog from the shoot

The ad was shot in a small square in the village of Venaria near Turin, and was directed by Vernie Yeung.
The giant zoetrope, which measures 10 metres in diameter, broke the Guinness World Record for the largest device of its kind ever built.
The upscale version of the 19th century invention was used to promote the Motionflow technology of Sony's new Bravia TV sets.
Motionflow technology eliminates any jerkiness seen when viewing objects moving at a high speed on TV, such as a football, by displaying images in 200hz.
To demonstrate this smooth image, 64 static pictures of the Brazilian football player Kaka, performing a football trick, were inserted inside the zoetrope, which, when spun, formed one flowing movement.
It is understood that, unlike the other Bravia ads, this commercial will not run with the 'colour like no other' strapline, but instead will end with the line: 'motion like no other'.
Ben Cyzer, Fallon's group account director on Sony, said: "Balls was all about colour. The colour like no other series is finished. Now it's all about motion."
It is also understood that the finished ad will also show footage from the construction of the Zoetrope.
Yeung said: "I want to create an air of anticipation among the watching audience. This is achieved by initially revealing some of the smaller details of the structure, then showing it in its entirety to demonstrate the sheer size and scale of the Bravia-drome and finally giving the viewer a glimpse of its surroundings.
"The suspense builds until perfectly smooth images of Kaka showcasing his amazing skills are unveiled."
Print, below-the-line and digital elements will support the campaign and it is thought that the zoetrope may be transported to other locations to be used outside the shoot itself.
To support the campaign online, Sony has created a range of online activity on blogs, websites and social networks to allow consumers to experience the 'Bravia-drome'.




See more pictures from the Sony Bravia shoot