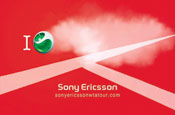 Young is responsible for global marketing and communications campaigns for Sony Ericsson's mobile activities and reports to director of global marketing Cathy Davies.
Young was advertising manager at mobile operator O2 UK for two years and has also held a number of marketing roles at British Airways, where he worked on global advertising campaigns and sponsorship programmes. Young played a key role in British Airways' sponsorship of Rugby World Cup 2003.
Young said: 'Having done marketing at a local level, Sony Ericsson is an interesting chance for me to get back into a global role.'
Taking responsibility for managing global marcomms campaigns, Young said his key focus was on the mobile manufacturer's 'imaging communications' activities such as the campaigns around the Cyber-shot range of phones and film tie-ups. Young said: 'Now that Bond is tied-up, there is more to come in that area.'
Young said no agency reviews were on the cards, but that 'digital would play more of a role' in Sony Ericsson's plans.
Young replaces James Ashford, who is believed to have left the company to go travelling.