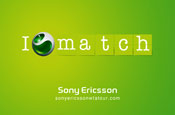 The mobile manufacturer has initially briefed the agency to develop strategic and creative activity to back its £44m global
title sponsorship of the Sony Ericsson Women's Tennis Association (WTA) Tour.
Sony Ericsson currently promotes its association with the leading women's tennis tour in key territories throughout the year. The brand has been title sponsor of the WTA since 2005.
As its global activation agency, iris will implement promotional campaigns, both online and off-line, across Sony Ericsson's sports marketing properties and retail business.
The handset manufacturer is also expected to become a sponsor of the UEFA Champions League, in which case iris would also be briefed to promote the tie with the football tournament, which is currently sponsored by Sony PlayStation and Sony.
Iris was hired following a competitive pitch overseen by Sony Ericsson vice-president and head of marketing Dee Dutta.