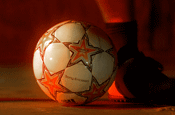 The campaign reinvents the playground game "Wallsey", where friends challenge each other to return a ball kicked against a wall.
The spot features a group of football tricksters in an underground car park, showing off their skills.
The "replay" campaign aims to promote Sony Ericsson's Cyber-Shot handsets from Vodafone stores.
The viral allows points users to a microsite www.replaywall.com where fans can find out how the game, view rules and key moves and discover more about the Cybershot range and how to capture their skills.
Fans can also win tickets to a party on the night of the UEFA Champions League Final on May 21st.
CreditsProject:
REPLAY
Client:
Timo Maassmann, Global Marketing Manager Sony Ericsson
Brief:
Leverage Sony Ericsson's sponsorship of the UEFA Champions League
Creative Agency:
iris London
Creatives:
Sam Bone, Jon Ellwood and Susan Young
Planner:
Ben Essen
Media Agency:
n/a
Production company:
Agile Films
Directors:
Andy Pilkington & Chris Ennis
Editor:
Andy Pilkington & Chris Ennis
Post production:
iris London
Exposure:
viral, online, experiential, posters