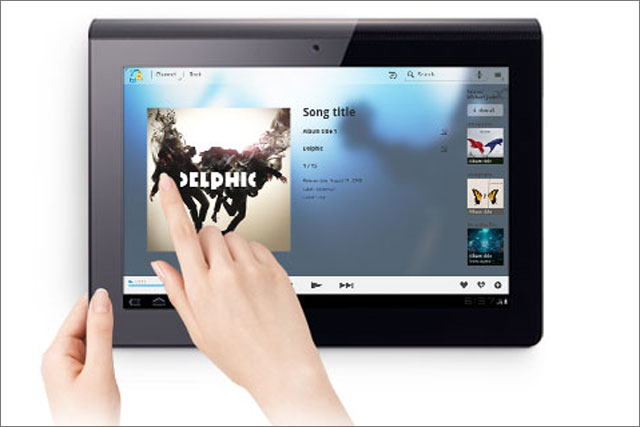 The Sony Tablet S, featuring a 9.4 inch screen and Wi-Fi, is available to pre-order online through Sony, Currys and PC World, and will be available in the same stores and in John Lewis later this month.
Sony's Tablet P, which will not be available to buy in the UK until November, is the first tablet computer to feature dual 5.5 inch folding screens, making it easy to transport. The tablet measures 7in by 6.2in when open and 7in by 3.1in closed.
The Tablet P will allow users to connect via Wi-Fi and 3G mobile networks, but the Tablet S will not launch in a combined Wi-Fi/3G version until next month. Both models have front and rear facing cameras to capture both still and video images with a USB 2.0 port and SD card slot.
The more conventional 9.5in by 7in 16GB Tablet S costs from £399, the same as a 16GB Wi-Fi version of Apple's slightly larger iPad, at 9.5in by 7.5in. The folding 16GB P version will cost from £479.

Sony's tablets will also allow users access to PlayStation games and Sony's own music cloud, Music Unlimited, TV and movie download centre, Sony Entertainment Network and ebook download centre Reader Store.
Sony first revealed its plans to launch tablet devices in April, before HTC's first tablet design – also on Google's Android platform – launched in May.
Meanwhile Samsung's tablet design, the Galaxy 10.1, sparked a rift with iPad2 creators Apple, who sought a court injunction last month to stop the Samsung device's sale in Europe.