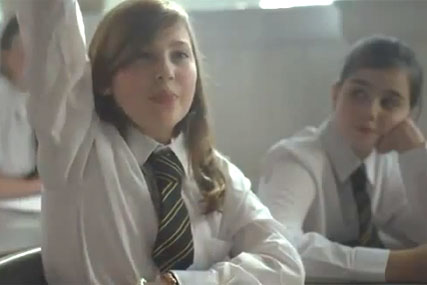 The short film, scripted by 'Notting Hill' director Richard Curtis and entitled 'No Pressure', also includes actress Gillian Anderson and French footballer David Ginola suffering the same fate for not caring enough about climate change.
In an official release on its corporate website, Sony said that it strongly "condemned the release by 10:10, the climate change campaign group, of a video entitled 'No Pressure' that Sony considers to be ill-conceived and tasteless".
The move is a blow to the initiative, just five days before its centrepiece day of action on 10 October, dubbed '10:10:10'. The campaign aim is to cut global carbon emissions by 10% each year from 2010.
The electronics firm said it believed the video risked "undermining the work of the many thousands of members of the public, schools and universities, local authorities and many businesses, of which Sony is one, who support the long-term aims of the 10:10 movement and are actively working towards the reduction of carbon emissions."
The company insisted that the promo was released entirely without its knowledge or involvement, and violated the "thoughtful and collaborative philosophy" that it had consistently supported.
Although Sony said that it recognised that 10:10 had acted quickly to remove the video from its website and had issued a public apology, the company said it had "no other option" other than to condemn the video in "the strongest possible terms" and was "disassociating itself from 10:10 at this time."
The film appeared on the 10:10 website, but was pulled down "within hours" of its appearance, according to the organisation.
It includes music donated by indie rockers Radiohead and was helmed by director Dougal Wilson.

In a statement, 10:10 said that it sincerely apologised to anyone who was offended by the promotion and only intended to bring this "critical issue back into the headlines, whilst making people laugh".
The 10:10 UK director, Eugenie Harvey, said: "As you may have heard, last week, 10:10 made a mistake by releasing a short film about cutting carbon which was supposed to be humorous, but, in the event, upset a lot of people. We quickly realised that we had made a serious mistake and took it down from our website within hours.
"We won't be making any attempt to censor or remove other versions currently in circulation on the internet."
Sony added that it still reaffirmed commitment to carbon emission reductions as a key element of Sony's global environmental plan, "Road to Zero". It confirmed that it was on track to reduce carbon emissions from its sites by 30% by 2015.
Read more on Brand Republic blogs