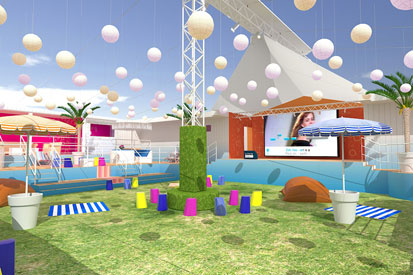 Sony has created a 'Cocktails and Dreams' venue that it will operate at Glastonbury later this month, Camp Bestival at the end of July, and Bestival in September. Carlisle and Vanilla Ice will perform on the stage, giving festival-goers the chance to sing along; in the evenings, DJs will headline.
The activity, through experiential agency Iris Experience, will be backed by Sony's biggest digital campaign to date for the games console, the first time the brand has mixed experiential and digital marketing on such a scale.
Sony is ploughing £500,000 into the online element of the six-month campaign for SingStar, which is PlayStation's primary promotional focus this year. Digital activity will build on the festival ties and encourage consumers to submit karaoke entries to a competition.
A social media push across Facebook, MSN and YouTube will drive users to Sony's SingStar campaign site, created by Agency Republic. There users will be able to sing for a chance to win a SingStar game and other prizes including tickets to festivals.
Sony will also run homepage takeovers across music services Spotify, We7 and Last.fm, in a campaign planned by OMD.
Sony marketing director Alan Duncan said: 'The game is a social experience and the idea of the campaign is to show how that experience can happen. It's adding a new level of energy to the franchise.'
Sony also plans to take the SingStar stage to Guilty Pleasures club nights in London and Manchester throughout the summer. Guests will be offered the chance to sing their track of choice. The best singers on each night will get to perform on stage in a 'sing-off', before going through to win prizes.
Henry Scotland, joint managing director of Iris Experience, said: 'Partnering Bestival extends the reach and period
of the campaign. It also targets a social gamer crowd as well as families.'