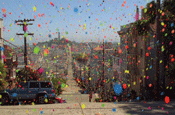 The electronics company replaces Honda, which pulled out of the £2.5 million sponsorship after just one season.
Coverage begins with the 15 March Grand Prix in Australia. The deal was negotiated between ITV and Sony's media agency OMD UK. Fallon will create sponsorship idents and Dare Digital will be responsible digital and mobile content.
Mikah Martin-Cruz, the general manager, marketing, for Sony UK, said: "The sponsorship is a great opportunity for us to showcase our high definition offering in an engaging and entertaining way."
Audiences for last year's coverage of F1 picked up owing to interest in UK driver Lewis Hamilton. They increased 41 per cent on the previous year.