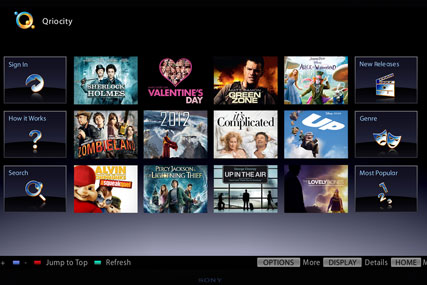 The service is based on a platform called Qriocity and is part of a content distribution system being launched by Sony that will eventually let users download video, music, game applications and ebooks.
The Music Unlimited service will be available by the end of the year and will give users access to millions of songs, as well as allowing them to build playlists and discover new music based on their personalised tastes. The service will be available on new models of the Bravia TV, PlayStation, via computers, and on Sony's portable devices.
Before the music service goes live, Sony is rolling out its film rental service this autumn in the UK, France, Germany, Italy and Spain. Content is provided by major studios including Sony, MGM, 20th Century Fox, Paramount and Disney.
It is Sony's second attempt at launching a download service – in 2004 it came out with Sony Connect, but the service was closed in 2007. That service was promoted in a partnership with McDonald's.
Kazuo Hirai, president of the Networked Products & Services Group at Sony Corporation, said: "We are excited to offer our customers high-quality, cloud-based entertainment experiences across many of Sony's network-enabled devices.
"Services 'powered by Qriocity' will revolutionise the way that users play, listen, watch, share, communicate, learn, discover and create their digital entertainment content."