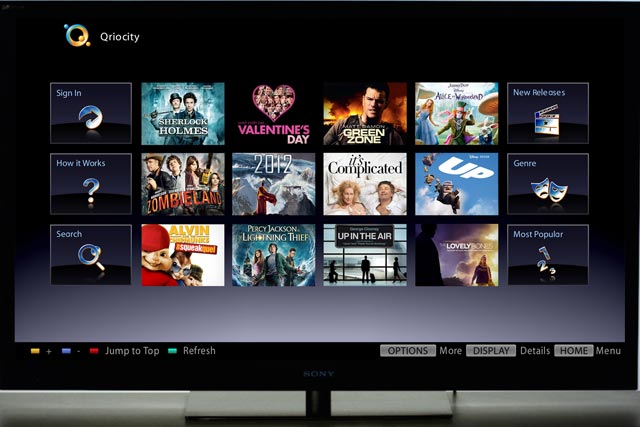 Users of Sony's Bravia TVs and Blu-Ray players will be able to have movies streamed to them on a pay-per-view basis under the Qriocity brand, which is the company's media distribution system.
Users will be able to watch films in either high definition or standard definition. Once a film is bought, the user has 14 days to watch it, and then 48 hours to repeat viewing.
Pricing will make the service highly competitive with traditional rental stores such as Blockbuster, with a library release costing £2.49, rising to £3.49 for new releases, with HD content starting at £3.49 per film, rising to £4.49.
An impressive number of studios have signed up to the deal, including:
Twentieth Century Fox Home Entertainment
Lionsgate
Metro-Goldwyn-Mayer Studios Inc. (MGM)
Paramount Pictures
Sony Pictures Home Entertainment
Starz Digital Media
The Walt Disney Company
NBC Universal International Television Distribution
Warner Bros. Digital Distribution
Sony has already launched Google TV products, and now plans to extend the Qriocity service to cover music, game applications, and e-books.