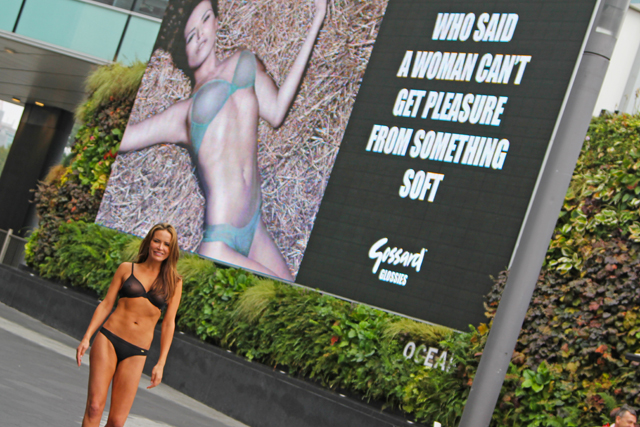 The new campaign features the model wearing items from the Gossard Glossies collection. It recreates Anderton's pose from the original shoot, which featured the model lying across a bed of hay.
The work was screened on Ocean Outdoor's Eat Street screen.
The activity was planned by Pure Media. The campaign also includes hi-impact large format Ocean digital sites, enabling the opportunity to show a transition from the monochrome replica ad to a colour treatment. The activity will run for two weeks in high traffic and retail areas across West London.
The creative was adapted by Pure Media and Parachute Creative Services with photography by Ruan van der Sande.
Anderton said: "We had so much fun on the shoot, it was like old friends catching up, just with a bale of hay and in your underwear. Totally normal.
"I know when I first wore Glossies they'd be a classic and who'd have thought I'd still be getting so much pleasure from something so soft."