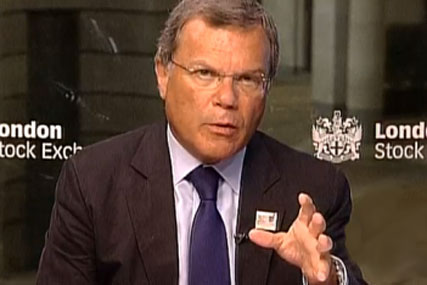 Not content with an empire that spans advertising, digital, research, PR and media, Sorrell is venturing into the technology sector hand-in-hand with Infosys, Procter & Gamble's Business Partner of the Year 2011.
No minnow itself, Infosys has 150k staff operating out of 65 offices in 30 countries around the world.
Sorrell visited WPP's latest partner's Canary Wharf offices yesterday to cut the ribbon on a Star Trek-esque presentation suite and talk up the pairing alongside Infosys chief executive SD Shibulal.
WPP's specialist tech operation Fabric Worldwide and Infosys have launched joint venture BrandEdge, which they claim unifies "marketing and technology expertise" and brings together "the full spectrum of digital marketing activities including creation and management of digital properties, data management, coordination with multiple partners, and campaign execution".
The combination, claimed Sorrell, has won three out of three pitches including healthcare and consumer giant GlaxoSmithKline and two of WPP's top 30 clients, yet to be revealed.
"If someone said to me why [we won the business], I think it's because we harness the technology of Infosys with the marketing power of Fabric in this case and WPP behind Fabric," Sorrell said.
Fabric is a lesser known WPP company that evolved out of True Worldwide, a start-up set up to unite digital, advertising and technology that the group backed in 2010.
Such moves are a reaction to the risk Sorrell believes lurks in the increasing closeness of chief marketing officers to technology providers.
"We tend to deal with CMOs at WPP and increasingly we've started to see other people – including Infosys to be frank – start to, in a sense, invade our space by coming at it from the back end", he said.
Hence striking the partnership that has produced "Infosys BrandEdge in partnership with Fabric". The cloud-based platform collects marketing data in one place and gives companies access to a range of tools from inside WPP, such as Buddy Media, as well as outside it, such as DoubleClick.
Sorrell billed the platform as a way to reconcile the priorities of chief marketing officers and chief technology officers, as it "hides the spaghetti behind the TV set" for the CMOs building websites and e-commerce executions while still allowing the CTOs to see the spaghetti, or back-end.
'This is what WPP is about'
After linking the partnership with Infosys to WPP's focus on new markets, new media, and consumer insight and data, the head of the world's largest advertising group then went further in his assessment of the importance of technology.
"This is very much what WPP is about, it's where we differ to our direct competition in that we do believe that the application of technology is fundamentally important to our business," Sorrell said.
"We do not wish to be an appendix or an adjunct of new media owners and propagating their media platforms because it's in our interests to do it.
"What we want to do is provide clients with platforms that work, that are 'independent' and we can give an independent view of life."
Asked later whether advertising companies risk being sidelined if they don't react to the technology trend, Sorrell said: "It's important for companies like our own on the CMO side as opposed to the CIO side to link with companies like Infosys.
"I think the unification of what the CIO does and what the CMO does has become really important in the context of new media and there is no division really.
"As one of our competitors would say, there's no such thing as digital or non-digital or traditional.
"I think there's some truth in that and increasingly over time it's going to become the same. So we'd better prepare ourselves for the day when we engage just as much with CTOs as we do with CMOs."
Follow Daniel Farey-Jones on Twitter @danfareyjones