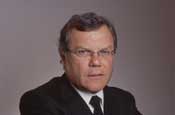 Following weeks of negotiations, its few remaining clients will now transfer to Grey London. Jim Kelly and Robert Campbell, who took the reins of the struggling agency a year ago, will not be joining Grey. Their 25 per cent stake in the agency becomes defunct.
A number of the agency's other staff, including its planning director, Richard Huntington, and the deputy managing director, Rhona Cairns, have been offered jobs at Grey, but it is unknown if anyone has accepted.
The agency's remaining staff, about 30 in number, will be made redundant.
Laurence Mellman, United's chief operating officer, said: "Because of the recent decline in fortunes of the London agency, we thought the best thing we could do was to migrate the remaining clients to Grey along with some of the key staff."
At the same time Grey London has removed its planning director, John Lowery. He will now take up a contract role for Grey EMEA working on assignments within the agency's European network. Grey would not confirm if it was going to appoint a replacement for Lowery or if Huntington would be given the job.
Campbell and Kelly were brought in by Sorrell to turn around United London, which had struggled to recreate the glories of its HHCL days.
However, when Sky moved its £80 million business to WCRS, it decimated United's billings and left it with only a handful of minor accounts.
These are the Early Learning Centre, thelondonpaper, Tracker bar, the NSPCC and Singapore Airlines.
Its biggest paymaster was COI, with the Food Standards Authority and the Home Office accounts. This business will transfer to Grey, despite the agency not being a COI roster shop.