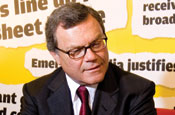 On Tuesday (5 August) TNS issued a statement strongly rejecting WPP's unsolicited offer. But yesterday, WPP followed this by issuing a statement arguing that its offer represents full and fair value for TNS shareholders.

WPP, led by Sir Martin Sorrell, made its move on TNS after TNS had agreed a nil-premium merger with German peer GfK earlier this year. GfK and TNS have since dropped the original merger plan, so that GfK can investigate a possible counter offer for TNS to usurp the WPP bid.

WPP said that it "encourages" TNS shareholders to "carefully" consider "why was the TNS board still proposing to undertake a nil-premium reverse takeover less than a month ago, if TNS' stand-alone prospects are so compelling?"

Sorrell said: "It puzzles us that the TNS board has performed such a spectacular u-turn so quickly.

"Only a month ago it was pursuing a nil-premium reverse takeover by GfK, and now the TNS board is advocating a stand-alone strategy."