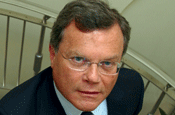 And he predicted that it would be 2010 before the gloom begins to lift.

Speaking at an event organised by Nabs, the industry charity, the WPP chief executive said of his visit to New York last week: "The smell of fear is incredible. People are terrified."

Sorrell - one of the world's most respected economic forecasters - said the upshot would be greater caution by client companies over the next year.

He added: "The next 15 months are not going to be easy."

But he suggested that there could be a financial recovery during the middle of next year "which will be as rapid as the decline in confidence".

He admitted he had feared as long as five years ago that 2009, with no Beijing Olympics to fuel growth, would be a tough period.

"Now life has got even tougher because of what's happened over the last two weeks," he said.

He said he had found it "terribly upsetting" that seemingly invincible financial institutions had come under violent attack.

"I don't say it's their fault or the fault of the hedge funds," he declared. "But I do find it terrifying."

Sorrell, whose agency empire embraces JWT, Ogilvy & Mather, Young & Rubicam and Grey, cited a number of events that could stimulate recovery in 2010 - the football World Cup in South Africa, the US mid-term elections for the House, Senate and governorships, and Shanghai Expo, the first world fair for many years.

The WPP boss, who is a Nabs patron, said the charity's role would become increasingly important during the coming months.

Nabs, which needs annual income of £2.2 million to sustain its activities, fears that demands on it may grow much heavier at a time when generating funds will become ever more difficult.

"We're likely to be caught in a double whammy," one executive said.