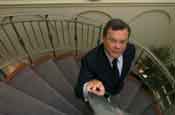 Benatti 'frustrated by lack of power and authority'
Jan Colley, PA
LONDON - A colleague of Sir Martin Sorrell told the High Court today how a female executive confided in him about her 'relationship' with the advertising tycoon.
Danilo Tani, director and chief financial officer of WPP Italy, said that chief operating officer Daniela Weber spoke to him before Christmas 2004.
"Weber said that she was telling me about her relationship due to our long-standing professional relationship and she was aware that I was also discreet. I told her that it was none of my business as it was her personal life, and it would not change my relationship with or my views about her.''
Tani said that on November 19 2004, he saw Weber and Sir Martin standing in front of the Santa Maria delle Grazie church in Milan on his way into work.
He added that he was fairly sure that only three other people within WPP Italy knew about the relationship at that time, including its then country manager, Marco Benatti.
Sir Martin, chief executive of WPP Group, is suing Italian media company, FullSix Spa, its founder Benatti and chief executive Marco Tinelli for libel and -- together with Weber -- for breach of privacy.
He has accused them of disseminating blogs alleging criminal activity and money laundering, a "vicious'' Jpeg image of himself and Weber, and of labelling them "the mad dwarf and the nympho schizo''.
His counsel, Desmond Browne QC, has told Justice Eady, who is hearing the case in London without a jury, that there was "overwhelming'' forensic evidence against the two men.
The case concerned the aftermath of a broken close friendship between Benatti and Weber and the consequences of Sir Martin's termination of Benatti's consultancy as country manager for WPP Italy.
In March 2006, it is claimed, Benatti's Italian lawyer rang WPP's lawyer and said that Benatti would be devoting the next few years to destroying 62-years-old Sir Martin and WPP, and it had now become a personal battle.
The defendants, who deny libel and breach of privacy, do not seek to justify the libels but deny that they were responsible for disseminating them or the privacy-infringing emails.
Tani said that in autumn 2005, Benatti and Weber started to have heated conversations in progress meetings and it was clear that they did not agree about a number of business issues.
Just before Christmas 2005, Benatti asked him to meet him to buy the Tiffany crystal apples which were to be the WPP Christmas presents.
"He told me he could not continue like this because he felt that Weber was thwarting him on everything.
"I told him my own view that she was simply not happy to support extravagant or inappropriate projects, not that she was opposed to him personally.''
Tani added: "He also said that he thought his business relationship with Sir Martin had been destroyed by Weber, but he did not know why.''
Tani went on: "I notice that in their witness statements, the defendants seek to attack Weber, suggesting that her relationship with Sir Martin was a cause of great trouble within WPP Italy and ultimately led to the termination of Marco Benatti's position as country manager.
"That is certainly not my experience. As I said in my first statement, it became obvious to me in 2005 that Benatti felt increasingly frustrated with his position and his lack of power and authority.''
He added that it was also untrue for the defendants to suggest that Weber behaved differently or badly with WPP Italy employees as a result of her relationship with Sir Martin.
"I certainly did not find this to be the case. The fact that she was having a relationship with Sir Martin did not change the way in which she treated WPP Italy employees, including me.''
The hearing then went into private for what is understood to be the entirety of Weber's evidence, by videolink from Milan.