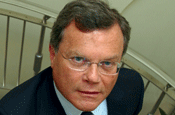 Last week, TNS rejected a third takeover attempt from WPP aimed at scuppering its planned merger with German market research group GfK. TNS told WPP to "stop interfering" after snubbing that bid, which valued TNS at £1.08bn.

Instead, TNS wants to complete its planned merger with Gfk. Last week, GfK shareholders approved plans for the £1.5bn merger with TNS.

WPP's offer, made this morning, is 173p in cash and 0.1889 of a new WPP share for each TNS share. Based on the closing price of 464p per WPP share on 8 July, the offer values each TNS share at 260.6p and the entire issued share capital of TNS at approximately £1.082bn.

Sir Martin Sorrell, chief executive of WPP, said: "We believe that the offer for TNS generates value for WPP share owners, and offers TNS share owners both cash certainty and equity upside. Reluctantly, we have waived our earlier precondition for the board of TNS to recommend our offer. Despite repeated efforts over more than three months to engage with TNS management, we have been unable to enter into any discussions that could lead to an agreement."

Sorrel added: "Although our offer may be characterised by some as a 'hostile bid', we believe that it is in no way hostile to TNS share owners, nor to TNS's clients and people. In fact, WPP believes it is more committed to maintaining the TNS brand than GfK. The offer from WPP is a superior alternative to what is, in effect, a 'nil-premium' reverse takeover of TNS by GfK and a 'merger of unequals'. We remain willing, at the shortest of notice, to meet with the board of TNS."