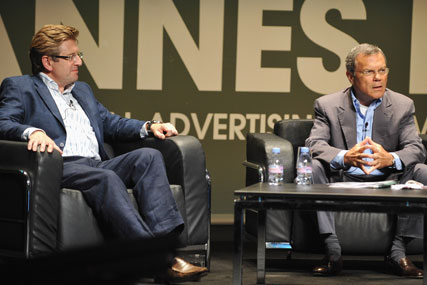 Speaking at one of the closing sessions of the 57th Cannes Lions Advertising Festival, Sorrell was in conversation with WPP client Keith Weed, the new global chief marketing officer of Unilever, the company behind brands including Wall's ice cream, Marmite, Persil, Lynx and Flora.
Sorrell said: "It strikes me that social media is the modern form of letter writing in many cases. What we do is communicate with one another and express our preferences, likes and dislikes. It's basically an editorial thing."
Sorrell highlighted Facebook, and its well-publicised problems following attempts to monetise it.
He said: "Mark Zuckerberg must be the one person on the planet who knows most about social media and its implications. Facebook is the third largest 'country' in the world, already.
"When you try and monetise it, and they tried for example in the Beacon context and one or two other contexts, in the search context. They've fallen foul, of even their most loyal users, and have changed their approach within 24 hours, 48 hours."
The advertising leader asked Weed: "Do you think these are media that are not easily monetised ... are these media that we should keep pure. That they are editorial media?"
Weed gently rebuffed Sorrell, saying he believed social networking was not the new form of letter writing, but rather more like the modern day equivalent of a pub or bar chat, creating a buzz in much the same way.

Weed called the burgeoning industry "word of mouth on steroids" with the capability of "pulling together vast amounts of people" using something that was "unique and different".

He said that social networking sites "will and they must" find ways to monetise their offerings.
He dismissed the idea that brands were going to pollute social networking platforms as "not true at all". He called brands "great simplifiers", and said they were "a huge part of people's lives ... and very much alive on Facebook".
Weed also revealed that within a month of starting his new role he took the category marketing heads on the various Unilever brands to Silicon Valley in California to meet representatives from the digital powerhouses.
Citing the global interests and insights at Facebook, Yahoo, Microsoft and Apple, he noted: "You start to see there's a mutual agenda that companies like ours can develop with companies like Facebook or Microsoft. So I think 'yes', they will monetise. How they do it, I think [Sorrell is], right they have to be clever."

Earlier in the session, Weed had noted that globalisation and digitalisation were "feeding off each other" and revealed Unilever would double its digital spend over the next year.
Referring to the young business, he said: "Digital marketing's like high school sex. Everybody's talking about it. Few people are doing it, and those that are doing it, aren't doing it very well."

Weed replaced Simon Clift as global chief marketing officer at Unilever in April this year.