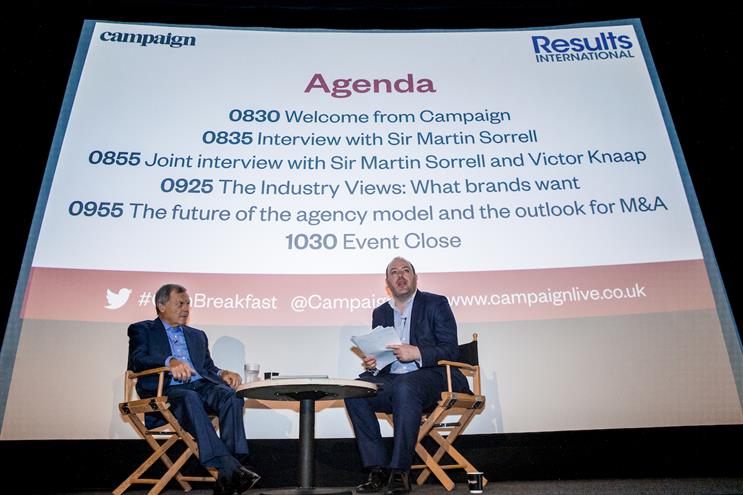 Sir Martin Sorrell has said he "would have loved" to sell WPP to Warren Buffett, who offered 925p a share in 2012 – close to where the share price stands today after a slump in its fortunes.
The former WPP chief executive revealed at Campaign's breakfast briefing, "Back to the future: When Sorrell met MediaMonks" in association with M&A advisory firm Results International, that the ad group had to turn down Buffett because he was offering only a 15% premium and wasn't willing to go higher.
WPP's share price rose 3% from below 900p to almost 925p in the wake of Sorrell's admission, although City analysts played down suggestions of a link as other UK media stocks were also trading strongly.
The revelation about Buffett's interest in the £12bn ad group could still fuel talk that WPP might become a takeover target again.
Buffett, founder of Berkshire Hathaway, is known as the Sage of Omaga for his legendary investment skills and his approach to WPP was originally revealed in Ken Auletta's book, Frenemies, earlier this year.
Sorrell spoke about Buffett's offer and the price for the first time publicly at Campaign's event at Curzon Soho in London, when he was asked if he wished he had "done a Rupert Murdoch" and sold the business that he built.
The former WPP boss recalled the circumstances behind Buffett's approach: "There was a rumpus about [my] compensation. Warren had read an op-ed that I'd written in the FT and called and said, 'I think WPP should be a part of Berkshire.'
"We had a brief conversation. He's very shrewd. He's very fixed and cuts to the quick. He's very fixed in terms of pricing and the premium he offered was not sufficient – the premium was about 15%, maybe a little bit more.
"The premium for a UK listed company was 30% and we couldn't persuade him to go to that.
"I would have loved to have done that if it had been at the right premium. The offer was 925p. Our share price was about 825p."
WPP's share price subsequently peaked at £19 in March 2017 but has tumbled in the last 18 months, falling below £9 last week.
Asked if Buffett "had it right" on price, Sorrell, who departed WPP in April, admitted that was the case – with six years' hindsight. "Ultimately," he said, acknowledging the recent share price slump.
Lorna Tilbian, the former head of media at Numis Securities, said Sorrell was right to say that WPP would have needed to get about a 30% premium.
She said Sorrell, who controlled just under 2% of WPP's shares, didn't have the luxury of voting control, which Murdoch enjoyed when he sold his Fox entertainment and Sky assets this year, or a high premium, which Aegis got when Japan's Dentsu bought the UK ad group in 2012.
"He wasn't in Rupert Murdoch's position where the timing was at his behest and not like [Aegis CEO] Jerry Buhlmann who got a 48% knock-out premium from Dentsu and it was cash," Tilbian, who advised Aegis at the time, recalled.
"They were both fantastic deals because they had control and a premium [respectively]," she said. "Given the good exits in our industry, Martin was stuck between no control and a low premium [when Buffett made his offer for WPP]."
Julie Langley, partner at Results International, said: "Sir Martin might have made headlines with his disclosure that Warren Buffett made a historic offer of 925p per share but that doesn't mean that WPP is more of a takeover target today than it was before Sorrell said what he said."
But she added: "Given its current market capitalitsation, WPP is within the reach of potential acquirers. The most likely contenders are from the private equity world.
"I'd be very surprised to see any of the management consultancies making a play for the network. Their business models are just too different and they'd be reluctant to have to grapple with the level of restructuring required."
Jonathan Helliwell, analyst at Panmure Gordon, said he did not expect anyone to make a takeover approach for WPP at this time but it could become a target.
"The combination of WPP's very low valuation now, combined with the strong cash flow characteristics of the business, and private equity's returning interest in the sector mean you absolutely can't rule out a bid," he said.
"That said, it's probably a difficult, slow turnaround for anyone – either for chief executive Mark Read or new owners – to execute."
Another analyst at a UK investment bank who spoke privately thought a bid approach was also unlikely.
"For now, no – mainly because potential buyers may want to make sure that the problems are turnround-able," the analyst said.
"The only caveat to that is a buyer may think WPP's problems are more company-specific than anything else, and see there could be a major opportunity."