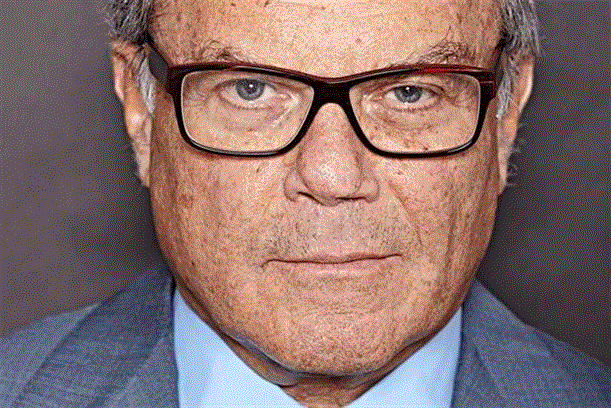 The WPP chief executive, who earned £48.1m last year, according to the annual report released today, said Google is "making an effort", after it said it would not serve ads next to YouTube channels that have had fewer than 10,000 views.
"The question is whether they [the two big digital media owners] have acknowledged they're a media company and I don't think Facebook have. I think Google are sort of acknowledging it but it's not full-throated."
Industry estimates suggest Google and Facebook are a duopoly that now takes upwards of 85% of all growth in digital advertising and brands can theoretically bypass agencies and buy direct from the platforms on an in-house basis.
But Sorrell dismissed that as a threat to WPP. "How do you say that clients are going direct to tech platforms? Where's the evidence for that?" he replied.
Sorrell pointed out WPP spent almost $5bn (£3.9m) last year with Google – more than any other media owner globally – and Facebook will be "roughly equal" with Rupert Murdoch's 21st Century Fox and News Corporation as the second biggest recipient of WPP clients' money this year.
"That doesn't suggest they [clients] are going direct [to media owners]," he said.
Sorrell acknowledged that while WPP had upwards of a 25% to 30% market share when it comes to traditional media owners, his group "doesn't have that with Google or Facebook".
"What's the reason for that? They operate to the long tail [by appealing to small businesses]. They don't operate necessarily, exclusively with the big advertisers. We've built a very strong position with Google and Facebook."
Sorrell urged brands not to cut their investment in marketing and advertising, even though the economic climate has got tougher, particularly for consumer goods giants such as Procter & Gamble and Unilever, in the last "three to six months".
He said: "The biggest opportunity [for WPP] is clients looking at what we do as investment, rather than a cost. That's the key issue – we've all become too focused on the short-term. Investing in innovation and branding works."
He added: "The problem is in a low-growth world with little pricing power and no or low inflation, the inclination is to cut costs."
Rival agency groups that slash cuts to win business have "lost the plot," he said. "If you benchmark things, you're a cost. We're not about cost, we're about value."
Sorrell's long-term bonus fell to £41.5m from £62.8m, partly because he pledged fewer of his own shares in a matching scheme.
One-third of shareholders voted against his pay a year ago and the chairman, Roberto Quarta, and the compensation committee chairman, Sir John Hood, acknowledged that.
"The committee understands that the majority of shareowners voting against the Implementation Report did so because of the level of the 2015 single figure of the Executive Directors, which was driven largely by the maturity of a legacy five-year long-term incentive plan award under LEAP," the report said.
"The committee is content that LEAP has performed as intended and in the manner approved by share owners when the plan was implemented and when the last compensation policy was approved.
"The committee would also like to remind share owners that the LEAP program was replaced in 2013 with a new long-term incentive plan, but that the first five-year awards under this plan will not vest until 2018."
WPP has had a slow start to 2017. Group revenues rose only 0.2% on a like-for-like basis.
Revenues grew in most markets apart from North America where Sorrell admitted the group was "challenged" from the after-effects of losing the big AT&T and Volkswagen Group accounts.
"However, the momentum [in the US] in the first four or five months is strong, so it seems to be moving in the right direction," he said.
He described the UK, Germany, Spain and Latin America as "doing well" and Asia "with the exception of China – doing fine".