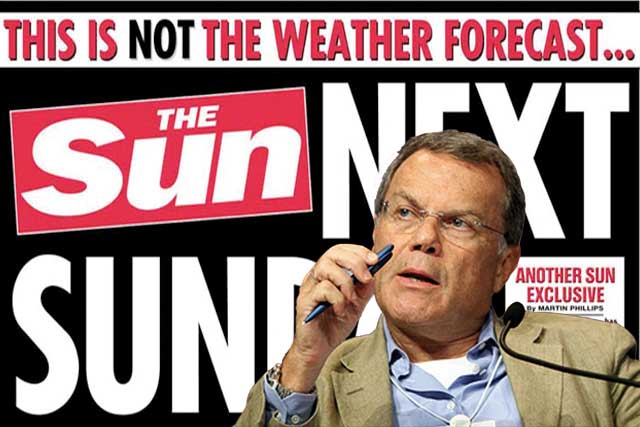 Sorrell's media buying behemoth, GroupM, is responsible for approximately one third of all press ad spend in the UK, through deals brokered through its agencies MediaCom, Mindshare, MEC and Maxus.
Speaking to Campaign just hours after News International's chief executive Tom Mockridge confirmed Murdoch's 43-year-old Sun will launch its first Sunday edition, Sorrell said: "I think both readers and advertisers will welcome a Sun every day of the week."
The launch of the new tabloid comes seven months after News International was forced to close its former Sunday title, News of the World, amid allegations of phone hacking.

National newspaper circulation figures suggest that more than 800,000 buyers of News of the World retreated from purchasing a Sunday newspaper altogether when it closed in July 2011.
In addition, figures published last month by the Audit Bureau of Circulations (ABC) also suggest initial gains of 1.8 million shared among its five remaining rival newspapers – the Daily Star Sunday, Sunday Express, People, Sunday Mirror and the Mail on Sunday – have slipped back by 542,247 copy sales since July.
Collectively, the two figures represent a total decline in the Sunday tabloid sector of more than 1.3 million copies, almost exactly half of the News of the World's 2.66 million average weekend circulation in its last full month in June.
Sorrell said: "My media colleagues tell me the market needs more competition and choice on a Sunday. Half of the News of the World readership have not chosen another title and advertising revenues have fallen."
WPP was recently awarded News International's £28m advertising account while WPP's Mindshare has held the media planning and buying account since 2005.
In terms of ad spend, News International's remaining tabloid The Sun was already proving to be one of the main beneficiaries of News of the World's demise. Far from News International's fears of group contamination, The Sun has outperformed the wider press market to increase market share since July.

Many of The Sun's leading commercial partners, which include Asda, Argos, B&Q, Sky and Tesco, are expected to have ads in Sunday's Sun.

Sorrell noted: "Given the structural decline of old style newspapers, we need more choice."
The WPP leader has form in backing Murdoch at strategically crucial times for News International. In the summer after Murdoch erected his online paywalls around sites for The Times and Sunday Times, Sorrell hailed paywalls as an "essential" part of the armoury for newspaper and magazine publishers in the digital age.

Adland's most influential figure said at the end of only the second month of Murdoch's paywall experiment: "We think paywalls are essential because we think giving away content for free, particularly if consumers value that content, makes no sense... "Consumers have to pay for content they value."
Newspaper rivals prepare for newsstand battle
Rival newspaper publishers are preparing to go into battle with News International when the Sun on Sunday launches this weekend, with sources suggesting the new tabloid could have a discounted launch cover price.
Industry executives are speculating that the Sun on Sunday, which will be edited by Sun editor Dominic Mohan, will debut with a promotional cover price around 75p, making it the cheapest red-top in the market; compared with The People (£1), the Sunday Mirror (£1) and The Daily Star Sunday (£1), with the Mail on Sunday priced at £1.50.
The Sun on Sunday's normal cover price is expected to rise to £1 over time.
It is likely the Sunday tabloid and mid-market newspaper sector will be deluged with cover-price cuts and marketing activity this weekend, as News International's rivals look to defend their gains.
However, sources at Associated Newspapers' rival Mail on Sunday rejected the idea of dropping its cover price this Sunday. The mid market newspaper already has a promotional covermount running this weekend, but does not expect to offer anything else outside of this.
The initial print run of the Sun on Sunday has been tipped to be in the region of 3 to 3.2 million as News International looks to replicate the News of the World's 2.6 million circulation.
Sources claim that, at present, News International has no TV advertising booked to support the launch of the Sun on Sunday, though one rival said the amount of PR the launch has generated has negated the need for any major marketing support.
Commeting on the launch of the Sun on Sunday, Alex DeGroote, analyst at Panmure Gordon, said: "This is cracking news, and potentially a shot in the arm for UK press at just the right time.
"The stockmarkets and media sector has been buzzing with speculations that The Sun and The Times might close. Taken at face value this Murdoch initiative is a ringing endorsement of News International, and plans for growth.
"With Leveson ongoing and other serious investigations too, News Int is not out of the wood. But this news could be symbolic."
News International declined to comment on the expected cover price and print run. Trinity Mirror and Northern and Shell were unavailable for comment.