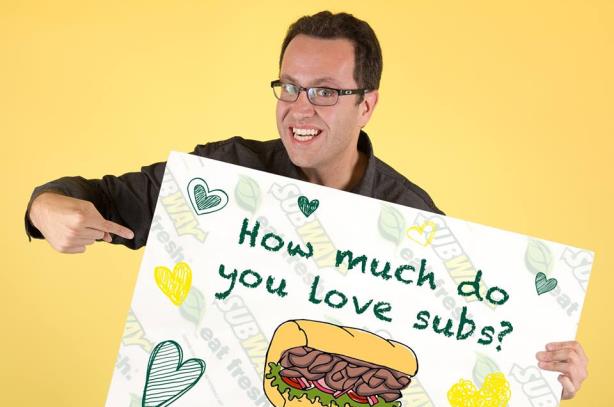 MILFORD, CT — Subway has no intention of apologizing for the actions of former pitchman Jared Fogle, who agreed to plead guilty to child porn charges on Wednesday.
A source close to the matter told PRWeek that the chain is focused on completely distancing itself from Fogle and getting back to "talking about its delicious sandwiches."
On Tuesday afternoon, Subway posted a brief statement on Twitter, stating, "We no longer have a relationship with Jared and have no further comment."
We no longer have a relationship with Jared and have no further comment.

— SUBWAY® (@SUBWAY) August 18, 2015
A day later, it reiterated in a tweet that it had already terminated its relationship with the longtime pitchman.
Jared Fogle's actions are inexcusable and do not represent our brand's values. We had already ended our relationship with Jared.

— SUBWAY® (@SUBWAY) August 19, 2015
The curtness of the first statement was intentional, according to the source.
"Subway is more interested in talking about delicious sandwiches and chips and new menu items," said the source. "Subway would rather not be talking about criminal justice issues, because that is not what they do and it is also not the values they stand for. So the company chose a short, definitive statement to indicate there is no connection with [Fogle] anymore."
The source added that Fogle's actions had nothing to do with Subway, and that he was not aided or abetted by the chain's employees in any way.
"There was no turning a blind eye to inappropriate activities he was doing," the source said. "It is not as if the company itself was doing anything or allowing something to happen that it needs to apologize for; Subway had no idea this was going on."
It is also important to note, said the source, that Fogle was not an employee of the company; rather, he was an outside spokesperson engaged by Subway to represent it.
Subway actually started preparing to cut ties with Fogle in April, when Russell Taylor, the executive director of Fogle's nonprofit, the Jared Foundation, was arrested on child pornography and exploitation charges, said the source.
"At that time, Subway focused on the issue affecting [Taylor], the foundation, and the ultimate potential connection that it could have to Jared, and then ultimately the Subway brand," the source said. "So Subway started a contingency plan and thinking about all the things that could happen, including the possibility of severing ties with [Fogle]."
When a home owned by Fogle was raided by police and federal agents last month in a search connected to a child porn investigation, Subway moved quickly to say the company was suspending its relationship with him and that it was a mutual agreement.
The source explained that because of the company's proactive handle on the situation, Subway was able to communicate "within minutes" of reports of the raid.
"At that point, Subway felt it would have been too extreme to say that, based on the raid alone, it was cutting ties with [Fogle]," said the source. "So that is why they only suspended the relationship at that point."
This situation has changed the way Subway will approach the selection of the company's next spokesperson, the source said.
"What has happened here shows you the pitfalls of having a real, live person as your spokesperson," the source said. "One of the lessons they are drawing from this is they need to be much more careful about who they associate with and what those people do."
When asked if the arrest of Fogle, who became a company brand ambassador 15 years ago after losing 245 pounds on a diet consisting largely of Subway sandwiches, will have a long-term effect on Subway's brand, crisis experts said the chain will get over this bump in the road.
The fact that the arrest happened 15 years into the relationship is in some ways better for the company, according to Levick SVP Melissa Arnoff. At this point, Subway's marketing campaigns have expanded to include professional athletes and focus on ingredients and pricing.
"People will probably remember for a while that Jared from Subway was accused of child pornography, but it likely won't make them avoid the stores," she said. "In addition, since Jared told the stories in his own voice and as sort of an 'every man,' people are likely to be more angry with Jared for violating their trust than with Subway, which some may feel was duped, too."
At this point, Subway should be in damage-control mode, advised Glenn Selig, president and CEO of Selig Multimedia.
"The company needs to handle itself professionally and be prepared to show that it had no prior knowledge and it is just as shocked as the public to learn of the allegations," Selig said. "If the investigation widens and there is evidence that Subway was made aware of allegations by employees or others and chose to do nothing because Jared was selling lots of sandwiches … then Subway has big problems."
Although the Jared's Journey section of Subway's website was removed last month, promotions for a game called "Jared's Pants Dance" were still present on the Subway Kids app on Wednesday morning.
This article first appeared on prweek.com.