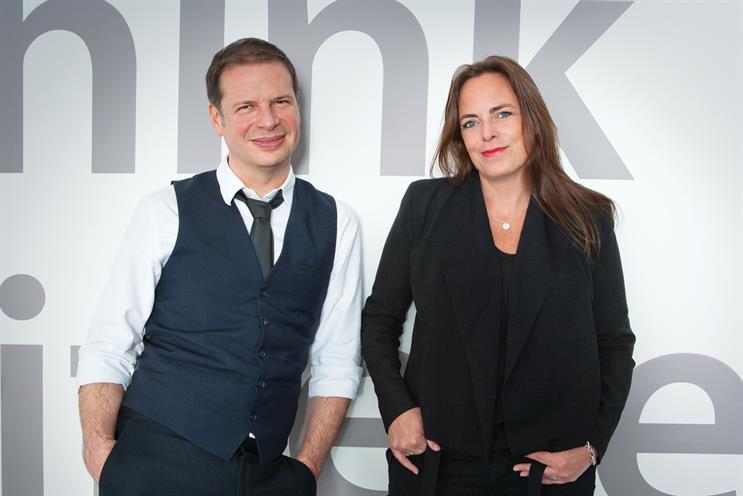 The first question to ask of Peter Souter and Lindsey Evans, freshly arrived from Australia as his management partner at TBWA\London, is the most obvious one: who is the boss? It is not an unreasonable query. Because if ever there was an agency in need of firm leadership, it is TBWA's London outpost.
Bedevilled by revolving-door management and an indifferent record of trying to "buy" growth and creative potency, including an embarrassing failed attempt to acquire Beattie McGuinness Bungay (home of its most famous former creative chief Trevor Beattie), TBWA\London has been a shadow of its former self for some years.

That the agency now has 12 clients when it used to have 60, that its 100-plus staff is half of what it used to be and that its last Campaign school report score was a miserable three out of nine only underlines its problems.
Add to it the fiasco that saw the agency's relationship with Müller end before it had barely started, and the scale of the task confronting the newly installed duo in making London the network's favourite son rather than its problem child becomes all too apparent.
So who will be in charge? The answer isn't entirely clear, although it seems likely that Evans, who, despite her title of TBWA UK group president, will have day-to-day charge of the agency as its chief executive in all but name, leaving Souter, as the chairman and chief creative officer, to enhance its creative reputation.

GOOD TRACK RECORDS

For his part, Souter suggests neither he nor Evans should find the management of a slimmed-down agency terribly difficult – only a hard graft. "I'm not here to fanny around," he insists. "I'm here to work."
He and Evans have good track records. Souter filled David Abbott's large shoes at Abbott Mead Vickers BBDO with some distinction. Evans is credited with delivering an impressive new-business performance and a vastly improved creative offering while she was the managing director at The Campaign Palace in Sydney.
Nonetheless, this is an untested partnership. The pair met for the first time only four months ago and September's week-long TBWA Worldwide conference is the only extended time they have spent together. Nobody knows how they will react together under fire.
Only a few days off the plane, Evans is still getting to grips with all that has happened since Tom Carroll, TBWA Worldwide's chief executive, called her in July – she was then the general manager, marketing, at Pacific Brands, the Australian clothing, homewares and sporting goods group – to sound her out about the job.
Her decision to "come home" was pretty much a no-brainer. "I found client experience really valuable," she says. "But it's agency blood that runs through my veins."
Both she and Souter are eager to promote their complementary skills, with Souter pointing out that working alongside female agency bosses such as Cilla Snowball and Farah Ramzan Golant at AMV is nothing new for him.
That, though, was an agency at the top of its creative game and a master of seamless succession. As Souter acknowledges, it's all rather different at TBWA\London, where three major leadership changes have taken place in little more than half-a-dozen years and the consequent effect on creativity has been marked.
In the new team's favour is the fact that both have extensive experience of working in Omnicom agencies – Souter at AMV, Evans at TBWA shops both in the US and Australia – and understand the creative and entrepreneurial culture that underpins the group.
"My familiarity with the TBWA culture and the excitement Peter brings with him provide us with a very sound base on which to build here in London," Evans argues.

CREATIVE BOOST
In essence, the pair see their task as getting the agency back on clients' radar by re-establishing its creative credentials and reaffirming what it stands for. To that end, Souter has invited Jean-Marie Dru, the TBWA Worldwide chairman, to come to the UK to evangelise about Disruption, his brainchild theory based on shattering conventions that get in the way of creative thinking and which form the basis of TBWA's modus operandi.
"In Disruption, we have a fantastic, shiny diamond," Souter says. "Yet, in the past, we've just paid lip service to it."
What's more, he insists that getting the agency back on course will not result in a bloodbath. Instead, a coach has been hired to work with all agency staffers and the leadership team in particular.
"Rather than fire people, I'd much rather see what we've got and how far we can stretch them," Souter explains.
Whether some feathers will be ruffled in the process remains to be seen. His first significant hirings have been Walter Campbell – of Guinness "surfer" fame – and Sean Doyle, who both worked with him at AMV, as creative directors.
Souter has been happy to stoke controversy by boasting that Campbell earns more than he does, but the new arrivals are bound to raise questions about whether he is simply adding to a top-heavy management structure with an expensive cabal of cronies.
Souter is unrepentant. "Walter is the best creative I've ever worked with and the biggest risk would have been not to hire him," he claims. "Of course he's expensive, but the effect he can have on your creative department is hard to put a price on. There are few agencies in London that wouldn't have him if they could. And Sean is one of the few people left in London who can actually write."
All this, though, begs a couple of other questions: who runs the creative department and won't Andre "Dede" Laurentino, the Brazilian-born executive creative director, feel unnerved and threatened by the creative heavyweights around him?
Souter insists that neither he nor Campbell and Doyle want his job. "Dede was the first person I talked to when I became chairman," he says. "It wasn't just about reassuring him, but promising him that we will be the kind of place where he'll want to continue working."
And do Souter and Evans feel the pressure to perform? "Of course," Evans acknowledges. "We know it's a huge challenge, but we also know there's an absolute commitment from the TBWA Worldwide management. And I want to make sure Campaign never scores us three out of nine again."