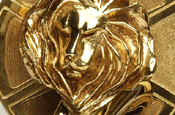 "Power to the people" for Nedbank from Network BBDO, Johannesburg, was awarded the top prize from 5,700 entries for its contribution to the community. The poster has solar panels in it that power electricity for a school in the township in which it is sited.
"This idea is more than just advertising," said the jury president Jean-Remy von Matt, founder of Jung von Matt, Hamburg. "It's help and it's hope."
UK agencies failed to make much impact on the 90 prizes awarded. DDB was the only silver winner, for Harvey Nichols' "Menswear". The agency also picked up two bronzes for Marmite ("Mullet" and "Hairy chest"). Abbott Mead Vickers BBDO's Economist campaign took three bronzes ("Is your indecision final?", "Do not fold", and "World domination") and ITV's "Afterlife" from M&C Saatchi won a further bronze.
The jury "flipped and flopped" between the Nedbank campaign and a Times Square digital ad for the US launch of BBC World from sister network agency BBDO, New York, von Matt said. The BBC World work asked passers-by to vote by text their views on topical debates such as Iraq and global warming.
"We were torn between the head and the heart," said Porky Hefer, executive creative director of Lowe Bull, Cape Town. However, the SMS-response billboard idea was not new, and Nedbank's campaign would be an inspiration to others in the industry, he said. "We [in the advertising industry] have been called bottom-feeders, but if we can really change people's lives with advertising, then that's amazing."