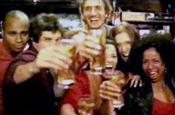 The ad showed a group of friends having fun and dancing in a bar to energetic music, while enjoying glasses of the liquor.

The ad finished with the group posing for a photograph, and the strapline "For picture perfect nights please drink responsibly."

The Advertising Standards Authority said: "We concluded that the ad suggested the success of the social occasion depended on the presence and consumption of alcohol."

It also concluded that the ad was "likely to be seen as suggesting that repeat rounds of drinks had been bought, therefore encouraging irresponsible consumption of alcohol".

But the watchdog rejected a complaint that the ad suggested alcohol could help make new friends, because the group seemed to already know each other.

Southern Comfort owner Brown-Forman argued that the ad never explicitly showed alcohol being consumed.

But the ASA ordered that the ad should not be shown again in its current form.