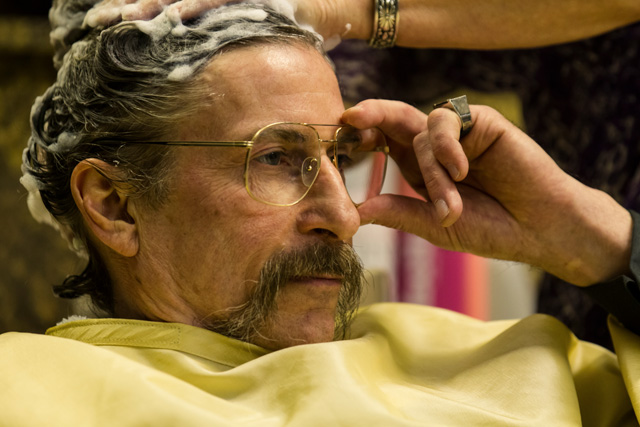 The idea behind the ads is to champion people who embody "self-comfortableness".
The new creative theme went public last year with "beach", a TV ad featuring a slightly rotund moustachioed man walking down a beach in Speedos and shoes.
The brand's second ad in this vein, "shampoo", made its debut last week. It shows a man wearing snakeskin boots, relaxing and having his hair washed at a local beauty salon, to the backing track 'The Beat' by Lou Johnson.
Marketing caught up with Gwen Ridsdale, the UK marketing manager on the brand, to find out more about the motivation behind "Whatever's Comfortable".
Why such a radical change for the brand?
The Southern Comfort brand globally wasn't in the best shape. When you look back, what we'd always done is changed positioning shifting from, "we're the brand from New Orleans', to 'we're the sociable brand". But as society changes, we realised the brand needed a radical change.
Why did you choose the positioning 'Whatever's Comfortable'?
The consumer insight Wieden & Kennedy found the millennials of today are pretty insecure. They're living at home much longer, they're not going to get jobs, so they're really insecure about what's going to happen to them. Then the other side of it is that they constantly live their lives as if they're brands on Facebook and Twitter. This can also create more insecurity.
When you have all these other brands telling them, "you've got to be rich", "you've got be smart", this just creates more angst. Whereas Southern Comfort as a brand, we've always been different, we've always challenged the norms and through that we came up with the positioning of 2Whatever's Comfortable".
Were there nerves when you read the script for the first ad and realised it featured a man in Speedos?
Yes there were, there's no doubt about it. You can imagine, we're a global brand so we have all the different regions inputting. So you have to trust your agency partners and global team.
Does it work outside of the US and UK markets?
The top 12 markets globally have tested both the "Whatever's Comfortable" positioning and beach creative. What we found is that globally the consumer insight is true, millennials living in Australia or in South Africa, they're all in the same boat. The creative execution didn't necessarily go down too well in some markets.
For example, Australia couldn't air it because the laws are so strict there that you cannot show alcohol on a beach. The South African consumers just didn't understand it because it's a market more driven by status. So Wieden + Kennedy have created more than one creative execution for the markets to use. South Africa has gone with a creative called "dance", which is more upbeat.
How has it affected sales?
The latest Nielsen data shows really strong positive performance in the off-trade, which is encouraging. The brand is still in double-digit decline in the on-trade, but that's part of the bigger phenomenon of the on-trade's struggle due to recession. But we are starting to see improvement in that.
What's next?
The challenge for us is to start taking this amazing positioning based on TV and start bringing it into consumers' hands at the point of purchase. How do we work the magic of that attitude through the line and across the marketing mix?
The brand had been struggling for a long time, so it's really liberating to see it coming to life.