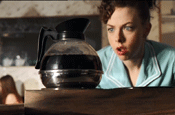 The optician chain has released four new radio executions which are all based around the idea of lens reductions.

A spokesman for the company said that radio would form a significant part of its 2009 media plan.

Specsavers creative director, Graham Daldry, said: "The reason we're doing a lot of radio next year is because it seems to work for us, partly because of our older audience.

"We have an awful lot of daytime listeners among our current and prospective customers."

Pile Driver sees a workman using a huge steam hammer to reduce his lenses, Black Holes stars a scientist attempting to turn his lenses into black holes through a Hadron Collider style particle accelerator, Doctor sees an embarrassed female patient ask for a lens reduction; and Chef features a cook throwing his lenses into a liquidizer to reduce them into a million tiny pieces.

Credits

Project
Pile Driver / Doctor / Chef / Black Holes
Client
Specsavers marketing director Richard Holmes
Creative agency
Specsavers Creative
Creative agency
Specsavers Creative
Creative director
Graham Daldry