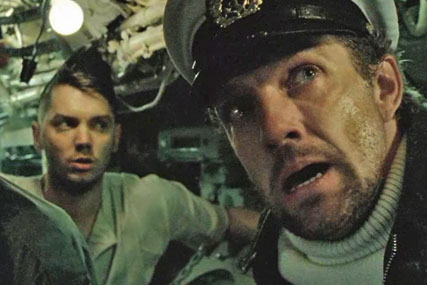 In a 60-second viral called 'Sub' a grim-faced World War Two German submarine crew go to action stations as they get a bit more than they bargained for from a rather amorous whale.
The short was directed by Cris Mudge of Mustard at the Royal Navy Submarine Museum in Gosport.
The whale was created using CGI and the viral's dialogue is in German with English subtitling.
Specsavers Art Director Mark de la Rue said: "The script was written about 18 months ago but we didn't present it as we were focusing on other messages at the time.
"Cris was looking to do something different for a show reel, so we teamed up to create 'Sub'.
"There are some interesting sounds in there, such as rivets popping, but we realised that those sorts of things would be lost in a noisy environment, like a crowded pub.
"Cris's solution was to dub the German dialogue over the top, which adds an extra layer of realism and helps to establish the whale's presence."
In January, Specsavers rolled out a comical viral film to celebrate the brand's 25th anniversary called 'Spermsavers'.
The film, was seeded on Specsavers YouTube channel and Facebook page and told the story of a sperm breaking away to be the first to swim towards an egg, but ends up swimming straight past it.
Specsavers creative director Graham Daldry says: "'Should've gone to Specsavers' has, over the years, manifested itself into a number of witty scenarios."
At the end of last month, the optician also launched a reactionary World Cup press campaign surrounding the goal by England midfielder Frank Lampard that was not given during England's defeat by Germany.
The press ad, which ran the Tuesday after the Sunday match in national newspapers, was devised by the optician retailer's in-house agency, Specsavers Creative, and used the text 'Goal line technology… from £25'. It then showed an image of a pair of Specsavers glasses.
Tim Langlois, Specsavers digital marketing manager, said: "There's a constant backdrop of online usage by journalists and the general public, but we also see some dramatic spikes.
"For instance, Specsavers experienced a 353% increase in Internet posts when Frank Lampard's World Cup goal against Germany was disallowed. Specsavers followed up with a national print ad two days later."